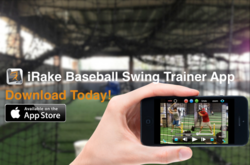 Boca Raton, FL (PRWEB) May 21, 2013
Users of Athletic Improvement Company's iRake Baseball Swing Trainer App can now enjoy new features including more slow motion options, a zoom-in option, user-friendly video scrolling, longer video capture time and a new commenting features.
A new "scrubber wheel" allows user to scroll through videos faster and easier. The Commentary Track feature allows users to record their coach's comments for example and share them easily with friends via Facebook. The length of video recording time has been increased for 30 seconds to three minutes. The Zoom feature allows users to zoom in on their swings for closer and more focused analysis.
Named for the baseball term "raking" when a player is hitting hard, the iRake Baseball Swing Trainer App for iPhone or iPad gives players of any age, the ability to record, analyze, and compare their swings from one practice to the next or even against pro player's swings. They can learn from the pros and become more consistent hitters. Pro players swings available for purchase and download include Martin Prado, Arizona Diamond Backs and Brayan Pena, Detroit Tigers.
The app can be used by athletes, coaches, parents, or friends for instant coaching sessions no matter where they are. The iRake Baseball Swing Trainer app is priced at $3.99 and is available from the app store in the Sports section.
iRake Baseball Swing Trainer Key Features:

Record and playback a New Swing
Analyze a Swing
Compare your Swing
Purchase Pro Swings
Share Your Swings
View Your Swing History
Add Friends and Compare Swings
Link: https://itunes.apple.com/us/app/baseball-swing-trainer-irake/id573233818?mt=8
Device Requirements:
iPhone 4 or higher
iPad 2 or higher
Pricing and Availability:
iRake Baseball Swing Trainer app is $3.99 (USD) for the iPhone. It is available worldwide exclusively through the App Store in the Sports category.
About Athletic Improvement Company:
Headquartered in South Florida, Athletic Improvement Company is developing Apps for Sports. iRake is followed by Softball Hitting Coach and Golf Coach Pro Mobile apps.
Apple, the Apple logo, iPhone, iPad and iPod are registered trademarks of Apple Computer Inc. in the U.S. and/or other countries.
Contact iRake: info(at)irake-app(dot)com