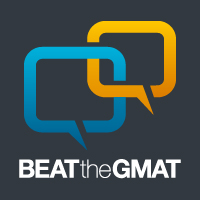 Arlington, VA (PRWEB) May 21, 2013
No one ever said getting into business school was easy. Now, for eight aspiring MBA's, achieving an impressive GMAT score and getting accepted to a top b-school is attainable. Hobsons today announced its distribution of more than $16,000 to eight Beat The GMAT Scholarship winners. Congratulations to the winners:

Grace Lesser, Kenya
Lwanzo Amani, United States
Elmira Aytjanovna, Uzbekistan
Aaron Roth, Peru
Matthew Miller, United States
Jose Ocasio-Santiago, United States
Rohit Sahdev, United States
Nadia Laabs, United States
"As with previous years of this scholarship, this year's applicants were nothing short of amazing," said Eric Bahn, founder of Beat The GMAT. "The Hobsons Beat The GMAT team is honored to award scholarships to these eight future business leaders and entrepreneurs."
Beat The GMAT scholarship winners are selected based on financial need, professional references, and personal essays outlining interest in the scholarship and a clear determination for why the applicant is pursuing an MBA. In addition, scholarship winners must also exude a strong capacity for collaboration, integrity, creativity, motivation, professionalism, and a potential for leadership.
For the 2013 competition, each winner will receive a $250 voucher for GMAT registration fees, a full GMAT test prep course, and MBA admissions consulting services. The following companies made generous donations to make these prizes possible: AcceptU, Admit Advantage, Admissionado, Clear Admit, GMAT Prep Now, GMAT Tutor by The Economist, Kaplan, Knewton, Manhattan GMAT, MBA Admit, mbaMission, The Princeton Review, Stratus Prep, and Veritas Prep.
Since 2006, Beat The GMAT has distributed more than $200,000 in scholarships and prizes to MBA applicants from all over the globe, including the U.S. and Canada, South America, Middle East, Africa, and Asia.
About Hobsons
Hobsons helps educators, administrators, students, and families maximize success through every stage of the learning lifecycle. Hobsons' personalized learning, academic planning, post-secondary enrollment, and student support solutions serve millions of students across more than 7,500 schools, colleges, and universities worldwide.