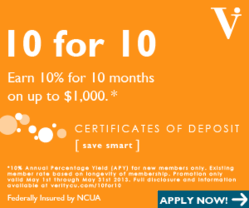 New members can earn 10% APY for 10 months with Verity during the month of May.
Seattle, WA (PRWEB) May 20, 2013
In an environment where deposit rates are below a percentage point, 10% Annual Percentage Yield (APY) for a certificate seems impossible, but that is exactly what local Verity Credit Union is offering right now.
In the month of May, Verity is offering new members 10 for 10 – 10% APY for 10 months up to $1,000.* Simply open a Certificate of Deposit with Verity Credit Union to enjoy premium savings.
Why is Verity offering this promotional rate? "We are looking to grow our membership," says Melina Young, director of marketing at Verity, "and the best way to add new members is with a great rate like this. Once they get to know Verity, we hope they will look to us first for loans and all their financial needs."
10 For 10 Essentials:

Earn competitive dividends on a CD
New members earn 10% APY for a 10-month term
Existing members earn 1% APY for each year they've been a member (up to 10%)
Maximum deposit amount is $1,000
Minimum opening deposit is $100
Limit to 1 CD per member
Early withdrawal penalties may apply
Offer ends May 31, 2013 - so don't wait.
For complete details and disclosure (and to apply), visit veritycu.com/10for10.
###
About Verity Credit Union
Verity has been serving members of the greater Seattle area since 1933. With branches from Alderwood to Auburn, our mission is to enhance members' lives through exceptional financial services. Anyone who lives, works or attends school in Washington state can become a member.