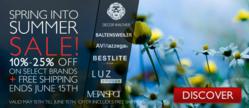 Spring into Summer sale - Brand new promotion on selected brands
Tarpon Springs, FL (PRWEB) May 27, 2013
Interior Deluxe, the premium European lighting supplier in the US is offering attractive discounts on several luxury light brands through its online store. Contemporary and authentic lighting pieces from Italy, Switzerland, France and other European destinations are being sold at incredible and unbeatable prices. Customers can pick and choose from the collections of AV Mazzega, Baltensweiler, and Bestlite. They can also choose stunning lamps from Décor Walther, Luz Difusion and MetalSpot. This is the ultimate sales extravaganza where customers have a plethora of choices among chandeliers, wall scones, suspension lamps, table lamps, recessed lights, floor lamps, outdoor lighting fixtures, pendants and display lights, spot lights, and LED energy efficient lighting. Interior Deluxe has released a unique collection of lights that has evolved from being a simple home lighting solution to an architectural accessory.
There are lights for the modern bedroom, living rooms, offices, restaurants, and retail centers. With marked down rates going as low as 25 percent, orders are already pouring from their global customer base. Besides, every piece of lighting sold at Interior Deluxe is backed by a solid customer service to make the purchase, installation, and performance of these lights a richer experience.
AV Mazzega is a classic case of Italian luxury. It boasts of handcrafted light fixtures made of glass. Lights from this brand are available with a discount of 20 percent. Baltensweiler, the Swiss lighting brand is available with exclusive light designs from renowned designers. With a 15 percent marked down in their prices; architects, interior designers, and engineers are flocking to the web store. Bestlite is another marvel in the light fixture industry. Durable and beautiful, these lights are offered with more than fifteen percent discounts. These are contemporary lights that blend with many aspects of modern lighting and décor aesthetics. Since 1973, Décor Walther has dominated the light fixture industry. Interior Deluxe is offering these fine lights at a 25 percent discount.
Among other lighting brands, Luz Difusion has been synonymous with neat silhouettes and innovative concept lights. These are offered with a twenty percent reduction in prices. Metal Spot offers lights which are famous for their technical innovation and aesthetic appeal. Interior Deluxe is offering these lights with a 20 percent off on their prices.
Customer feedback has also been very encouraging for this sale season. Not only the U.S., but even their offshore customers are happy with their lamps and recommend them highly. Carlos Luis from Mexico is ecstatic about the lights he received from Interior Deluxe. "These lights are exactly what I was looking for to complete my interior designing project. My clients love the fact that they are using authentic European lights at such remarkable discounts," he said. A similar view was expressed by Joey Z., an architect from Texas. "What I love most is that Interior Deluxe never compromises with the lamp quality. Besides, this huge discount is an added incentive for me," he said.
Interior Deluxe is a leading supplier of European lights in the U.S. and other global destinations. They offer free light shipment, on-call consultation about light installation and excellent sales services. The company enjoys an AAA rank with the Better Business Bureau.