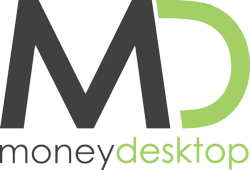 To be honored for a third-consecutive time is unprecedented for a PFM company and an incredible tribute to our amazing team and the quality of the products we are consistently delivering.

-Ryan Caldwell, CEO of MoneyDesktop
PROVO, Utah (PRWEB) May 20, 2013
MoneyDesktop, a provider of personal financial management (PFM), data analytics and marketing solutions for banks and credit unions, was named as a Best In Show winner during FinovateSpring 2013. After being awarded Best In Show at both FinovateSpring 2012 and FinovateFall 2012, this year's award marks the third-straight time the company has been given the show's highest honor.
MoneyDesktop's launch and presentation of its PFM-based data analytics and marketing platforms, Insight™ and Target™, were recognized as a Best In Show winner from among 72 total presenters. The products were presented during Day 1 of FinovateSpring 2013, held May 14 and 15 at the San Francisco Design Center in San Francisco, Calif. The event is one of the highest regarded events in the fields of banking and financial technology and brings together some of the most innovative companies from across the world. Participating companies presented timed, seven-minute demos of their technology, and awards were given based on votes from the more than 1,000 FinovateSpring attendees.
"To be honored for a third-consecutive time is unprecedented for a PFM company and an incredible tribute to our amazing team and the quality of the products we are consistently delivering for our partners and clients," said Ryan Caldwell, CEO and founder of MoneyDesktop. "Our team has worked tirelessly to develop these products, which are some of the best that have ever entered the PFM and FinTech space. We are so proud of where we are going and love the ride we are on."
About FinovateSpring
FinovateSpring is a demo-based conference for innovative startups and established companies in the fields of banking and financial technology. Held in San Francisco, the event offers an insight-packed glimpse of the future of money via a fast-paced, intimate and unique format. FinovateSpring is organized by The Finovate Group. For more information on the event or to view videos of previous demos, please visit http://www.finovate.com/spring2013
About MoneyDesktop
MoneyDesktop (MD) is redefining the way millions of people interact with their finances by developing software technologies that drive the financial engagement between account holders and financial institutions. Through its award-winning PFM, MD is the leading provider of online and mobile money management solutions and has become the fastest-growing provider of its kind. By integrating directly into online banking, core, and payment platforms, MD positions banks, credit unions and payment providers as financial hubs and offers tools that dramatically impact loan volume, user acquisition and wallet-share. MD currently partners with more than 400 financial institutions and 27 Online Banking/Core/Payment Network providers.