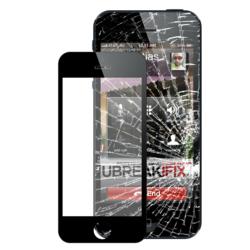 Orlando, FL (PRWEB) May 21, 2013
uBreakiFix now offers iPhone 5 glass replacement services for $199.99. This price is made possible by a proprietary new repair technique that allows uBreakiFix technicians to replace just the glass on the device without replacing the entire front display assembly. The new repair process makes the repair option a cost-efficient alternative to AppleCare and other warranty services.
Previously, iPhone 5 glass repair required a full display assembly replacement resulting in both new glass and LCD which could cost as much as $299.99, with very little availability of new screens. This new repair technique allows for the replacement of just the glass and comes with a reduced consumer cost of $199.99. The front display assembly of the iPhone 5 includes glass and LCD, which are fused together by factory grade adhesive, generally deeming the two inseparable.
"A new proprietary repair process allows us to replace just the glass on the iPhone 5 without also replacing the LCD; all while maintaining the original manufacturer's look and functionality," stated David Reiff, uBreakiFix Co-Founder and Vice President, "this innovation allows for a substantial drop in price, which now makes this a viable repair option for the consumer in need of accidental damage repair, which is not covered underneath Apple's standard one year warranty." Due to this advance in the uBreakiFix repair process, the repair option is now the most cost efficient way to handle an accidentally damaged iPhone 5 when compare to many major insurance programs.
The new repair price is the same company-wide and most 49 uBreakiFix repair locations are able to offer the service while you wait. uBreakiFix specializes in Smartphone and consumer electronics repair and has quickly become a top National repair provider of iPhones, tablets, game consoles, and personal computers. Based in Orlando, FL, uBreakiFix has 49 walk-in repair locations nationwide, with new locations opening on a regular basis. uBreakiFix focuses on offering superior customer service and a signature 90-day warranty on all goods and services. Visit uBreakiFix.com or call 877-320-2237 for more information.
###