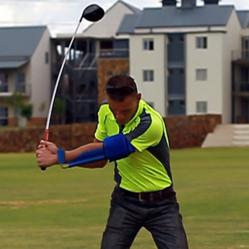 The Golf Perfecter is a training aid that was developed to improve every aspect of a players golf swing.
Jackson Hole, WY (PRWEB) May 22, 2013
InTheHoleGolf.com has partnered with Inditron Golf of South Africa to launch the Golf Perfecter Swing Trainer. Developed by teaching professional Philip Beukes, the Golf Perfecter will help golfers solve numerous common golf swing faults.
The Golf Perfecter is a training aid that was developed to improve every aspect of a players golf swing. The Golf Perfecter is worn on the leading arm of the golf swing. For a right handed player, it fits securely on the left arm, and helps maintain a straight left arm throughout the swing, which is crucial to developing maximum width and leverage in the golf swing. It is well known among golf teaching professionals that a straight left arm will lead to longer and more accurate shots.
The Golf Perfecter consists of two components, the upper-arm-stabilizer and the forearm/wrist catch. Once it is correctly attached to the leading arm of a golfer, he/she can practice without being concerned about the swing. The Golf Perfecter is so versatile; it can be used for most of the shots one needs to play during a round of golf. It is designed in a manner that allows for comfort and can even be used during a social round of golf. There is no need to remove it from the arm while playing 18 holes of golf as it is truly not a distraction.
"I developed the Golf Perfecter to eliminate the most common swing faults, and aid any level golfer in improving their golf game. We partnered with InTheHoleGolf.com because their experience, sales, and marketing of golf training aids is unparalleled," commented Philip Beukes of Inditron Golf
"We're proud and excited to be the exclusive online retailer offering the Golf Perfecter Swing Trainer. We see a lot of new golf training aids, but it has been a long time since we have seen a swing trainer as effective as the Golf Perfecter," said Michael Lynch, President of InTheHoleGolf.com
The Golf Perfecter is in stock now at InTheHoleGolf.com. It retails for $89.95 and comes with an instructional DVD and wall chart.
About InTheHoleGolf.com
Founded in 1998, InTheHoleGolf.com has been serving online golfers worldwide for over 15 years. Based in Jackson Hole Wyoming, InTheHoleGolf.com provides a huge selection of clubs, bags, balls, shoes, apparel, push carts, golf GPS watches, golf training aids, and accessories. You'll find the latest golf technology from the best brands in the golf industry. InTheHoleGolf.com is a market leader providing excellent customer service, free shipping on orders over $75, and a 30 Day Playability Guarantee.