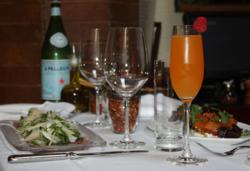 Fairfield County, CT (PRWEB) May 20, 2013
Summer is in the air and restaurant patios are overflowing with patrons eager to experience this season's most refreshing cocktails. Morello Italian Bistro in Greenwich, renowned for its seasonal drinks, has launched its summer cocktail menu, with exotic concoctions that will entice even the most conservative taste buds.
The restaurant's selection of summer cocktails has been created by wine and beverage connoisseur Olivier Flosse, Wine Director for MARC US. A recipient of the prestigious Wine Spectator Grand Award, Flosse has created a well-stocked, award-winning wine cellar for Morello that includes rare wines from Europe and Italy, as well as an assortment of bottles from local vineyards. In total, Morello's cellar holds more than 650 wines, 20 of which are offered by the glass.
Morello's creative summer cocktail menu includes two signature drinks and a variety of elegant mixed beverages to enjoy, such as its White Peach Margarita, Fiore Liz and Passion Fruit Bellini. A popular classic, the Morello Old Fashioned, is offered but with Morello's twist - a caramelized orange. General Manager Jimmy Branigan Jr., a familiar face in the world of upscale dining, from five-star Manhattan restaurants to some of the area's finest eateries, has been instrumental in creating Morello's inviting and energetic atmosphere. "Our summer cocktail menu is a must-try each year," said Branigan. "There's nothing like sitting at one of our outside tables, watching the hustle and bustle of shoppers, while relaxing with a signature Morello cocktail and one of our renowned signature dishes."
A Greenwich Avenue staple and a favorite of discerning Connecticut locals and Westchesterites alike, Morello serves authentic Italian dishes with rustic flair. Executive Chef Kevin Garcia, a seasoned culinary expert and protégé of Mario Batali, creates entrees inspired by the regions of Rome, Tuscany, and Sicily; where possible, he uses local ingredients to complement those either imported from Italy or handmade in Morello's kitchen.
Morello Italian Bistro is located at 253 Greenwich Avenue, Greenwich, Connecticut. The restaurant serves lunch Monday–Friday 12:00pm-4:00pm and dinner Monday–Thursday 4:00pm- 9:30pm, Friday–Saturday 4:00pm-10:30pm and Sunday from 4:00pm-9:00pm. Brunch is served on Saturdays 12:00pm-4:00pm and Sundays 11:30am-4:00pm. Reservations are accepted and can be made by calling (203) 661-3443. For additional information, please visit http://www.morellobistro.com