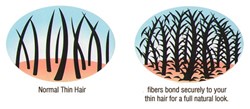 This was such an easy process. It gave me the appearance of a full head of hair in just 3 minutes!
(PRWEB) May 22, 2013
TheBeautyPlace.com features Toppik and Bosley hair fibers, two hair loss concealer products that undoubtedly cover up any remnants of thinning or balding hair. Hair loss treatments can be a lengthy process. In order to conceal the appearance of hair loss during this waiting period, one can use these hair loss concealers. They can also be used as an alternative to hair transplant surgery in general.
Bosley and Toppik Hair Thickening Fibers are a safe and an extremely effective way to eliminate the appearance of balding and thinning hair. It is a favorable option for either men or women who are experiencing hair loss or have recently undergone hair transplant surgery. No matter what the condition is, if visible hair loss is a grave concern, hair loss concealers are the perfect option. There are a variety of shades and colors to exactly match each individual's hair strand.
Bosley Hair Thickening Fibers and Toppik Hair Building Fibers work in similar ways. Both contain fibers known as Keratin fibers. Keratin Fibers, scientifically called, Fibrous structural proteins, are the key structural component of hair and nails. The fibers are stimulated with static electricity so they interlace and bond with your own hair.
The application process for both products is very easy. The hair needs to be completely dry. Then with a brush or comb hair, shake Hair Thickening Fibers applying liberally into thinning and low-density areas. When applying the fibers near the face, protect eyes and face with Toppik Hairline Optimizer. In addition to the optimizer, both Toppik and Bosley have a Fiberhold spray, which increases the bond between the natural hair and the hair thickening fibers giving it extra durable, longer-lasting style.
The minuscule microfibers are tremendously faint and undetectable from as close as 2 inches away. As soon as the fibers are shaken over the hair, they firmly bond to the natural hair. The fibers are so durable that rain, wind and perspiration will not have any effect on their appearance and efficacy. Although they are durable enough to withstand the weather, a normal shampoo easily washes away the unwanted hair fibers.
If balding or thinning hair has been a major concern, then hair loss concealers are a great option. It's a safe and effective alternative to hair loss treatments and gives immediate results.