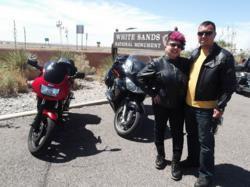 How vain it is to sit down to write when you have not stood up to live.- Henry David Thoreau
(PRWEB) May 20, 2013
Having successfully built an Internet marketing and publishing business, Steve Johnson and Tina Walker sold off, donated, and threw away much of their personal belongings, keeping only the bare essentials that they could fit on their motorcycles, and set out on a six-month journey across the lower 48 with no travel plans or itinerary of any kind. Needing the best gear possible, they contacted eBikerLeather to outfit them with the necessary motorcycle gear.
"Leather is essential for motorcycling, for many reasons," says Walker. "So far, four weeks into the tour, our leather jackets and luggage have been through high winds, rain and 100 degree temps, keeping us comfortable and dry."
"You get sick of just sitting in one place most of your life," says Johnson, who quit his regular job ten years ago to begin building an Internet marketing business which he runs from home. "I built this business with the goal of being able to live on the road, work out of my laptop, and ride my motorcycle all day long."
The trip, which began April 25, 2013 in San Diego, CA, is planned for six months. The couple has stayed at cheap motels with long-term rates, staying in one city for no longer than one week. In between cities, they plan to ride the back roads of America, stop in small, out of the way places, and interview locals.
"We've seen Yuma, Ajo, Tombstone, Tucson, Las Cruces, Roswell, White Sands and now we're in Albuquerque. Having only been here a few days we are already itching to get moving again," says Johnson.
"It's an experience of a lifetime," says Walker, who spent 20 years as a housewife, raising a daughter through two previous marriages. "I've said 'goodbye!' to Susie Homemaker, and I'm done trying to fit into a suburban lifestyle. For now on, I'm going to meet MY needs instead of someone else's!"
Johnson began riding motorcycles since 1985 after graduating high school, and has since ridden extensively throughout the western United States, Canada, and Alaska, and chronicles his own personal thoughts at Motorcycle Philosophy.
Walker grew up as the daughter of a 1%er MC member in Southern California and witnessed the motorcycle club lifestyle first hand. She writes her personal thoughts at http://www.sashmouth.com.
"It's already been a life changing experience for both of us," says Johnson. "Just living with the bare essentials, most of which was provided by eBikerLeather, and trusting your own abilities really shows you what you're made of."