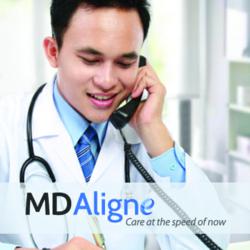 MD Aligne can fill the void left by the shortage of doctors by allowing patients to get medical treatment at their fingertips.
Conshohocken, PA (PRWEB) May 21, 2013
Thousands of Americans are worried about impending doctor shortages under healthcare reform laws, but MD Aligne offers an easy and convenient solution to address this issue.
According to a recent Deloitte study (April 2013), it is expected that 30 million new patients (i.e. those who have either not gone to the doctor or who have been going to the emergency room for treatment) will enter the healthcare system in 2014 under the Patient Protection and Affordable Care Act (1). With the increased demand for healthcare, there is expected to be a decreased supply of doctors to cover the patients. In fact, it is estimated that by 2020 there will be 70,000 less doctors available to patients (1). As a result of this projected shortage, the time it takes to schedule a doctor's appointment may increase from an average of 2 ½ weeks to 3 months as well as allow for less time in doctor-patient interaction.
MD Aligne offers 24/7 access to a qualified staff of nurses and doctors online or via telephone from anywhere. "We have doctors and nurses on staff available whenever you need them," says John Palumbo, President and CEO of MD Aligne. "All of our doctors are trained and licensed in the U.S. and in your specific state, go through a credentialing process that is NCQA certified and URAC accredited and MD Aligne is 100% HIPPA compliant."
The reason for this doctor shortage lies in the fact that many doctors see the impending healthcare reform as a threat to the industry. The same Deloitte study found that six in ten physicians reported that it is likely they will retire earlier than planned, in the next two to three years, because of these impending changes (1). Therefore, in next year alone, the pool of patients is estimated to increase by 12% while the supply of doctors will stay the same or begin to decrease as physicians begin retiring (1). While these healthcare changes will provide every American with healthcare coverage, the doctor shortage threatens the timeliness of treatment which MD Aligne can solve.
"With a wide range of services from telemedicine and online consults to diagnostic services, MD Aligne can fill the void left by the shortage of doctors by allowing patients to get medical treatment at their fingertips," explains Palumbo. "In addition, we accept patients with limited or no medical insurance and receipts can be submitted to insurers for those who do have coverage so that anyone can take advantage of MD Aligne's services for better diagnosis, better treatment, and better recovery."
For patients worried about the impending doctor shortage, MD Aligne provides safe, convenient and affordable access to healthcare solutions. MD Aligne and the Affordable Care Act exist together to ensure that all Americans get access to health care from a licensed and qualified doctor.
About MD Aligne
MD Aligne is a new and better way to get the professional healthcare you need when you need it. MD Aligne offers healthcare resources via the telephone or web providing safe, convenient, and affordable access to remote caregivers utilizing our digital platform. As a web-based consumer health company, we deliver multi-device solutions for consumers to conduct health e-commerce for doctor consultations, medical advice and diagnosis, prescription and testing, and other healthcare supplies and therapies so our customers can manage their health, in their way, on their schedule.
According to a global survey, consumers are growing more comfortable with online doctor visits, with 70% of U.S. patients open to the idea and some studies are even showing better outcomes from telehealth than in person. For those health issues that do not require a face-to-face visit, our services are efficient and easy. Our digital and telephone doctor consultations give patients timely access to quality medical advice and the convenience of conversing with medical professionals 24/7, from home or work, reducing the total cost of the traditional medical office visit experience. For more information, visit mdaligne.com or call 1-888-738-5574.
References
(1) http://www.foxbusiness.com/personal-finance/2013/04/17/obamacare-reality-doctor-shortage-on-way/
Contact:
Taylar Cooney
Corporate Administrator
Tel: 484.784.4560