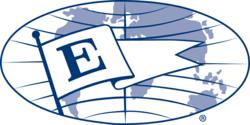 The 'E' Awards are the highest recognition any U.S. entity may receive for making a significant contribution to the expansion of U.S. exports.
Washington (PRWEB) May 21, 2013
U.S. Acting Secretary of Commerce Rebecca Blank presented Nielsen-Kellerman with the President's "E" Award for Exports at a ceremony in Washington, D.C on May 20, 2013. The "E" Awards are the highest recognition any U.S. entity may receive for making a significant contribution to the expansion of U.S. exports.
"I am delighted to be recognizing this year's Presidential 'E' Award winners for their outstanding contributions to U.S. exports and congratulate Nielsen-Kellerman on its outstanding export achievement," said Acting Secretary Blank. "It is businesses like NK that are strengthening the economies of local communities, creating jobs and contributing to the worldwide demand for 'Made in the USA' goods and services."
"Exporting continues to be a great contributor to our sales growth, and we are honored to receive the 'E' Award," said Nielsen-Kellerman CEO Alix James. "With more than one-third of our sales derived from exports to every corner of the globe, we're able to sustain more jobs and even expand our workforce."
Nielsen-Kellerman designs, manufactures and distributes waterproof instruments for active lifestyles and technical applications across three brands: Kestrel® Weather & Environmental Meters, NK electronics for the sport of rowing and Blue Ocean® Rugged Audio. For more than 30 years, NK has been known worldwide for its waterproof speed measurement, timing and audio systems for competitive rowers. NK's Kestrel Weather & Environmental Meters division has been researching, developing and manufacturing technically advanced portable weather instruments for more than 15 years and owns multiple patents on their unique features. NK is proud to be a US manufacturer, a recognized leader in Lean manufacturing and process improvement, and an award-winning top workplace.
U.S. exports hit an all-time record of $2.2 trillion in 2012, and supported nearly 10 million American jobs. President Obama's National Export Initiative, which aims to double U.S. exports by the end of 2014 and support an additional 2 million jobs in the United States, is opening new avenues for U.S. exporters through enhanced export assistance and a strengthened trade agenda that is targeting emerging markets and industry sectors across the globe.
President Kennedy revived the World War II "E" symbol of excellence to honor and provide recognition to America's exporters. The "E" Award Program was established by Executive Order 10978 on Dec. 5, 1961. A total of 57 U.S. companies were presented with the President's "E" Award this year.
U.S. companies are nominated for the "E" Award for Exports through the Department of Commerce's U.S. and Foreign Commercial Service office network, located within the Department's International Trade Administration, which has offices in 108 U.S. cities and more than 70 countries to help U.S. exporters. Four years of successive export growth and an applicant's demonstration of an innovative international marketing plan that led to the increase in exports is a significant factor in making the award.