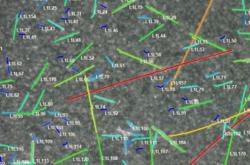 Researchers finally have a way to automatically measure the lengths and widths of fibers.
Rockville, MD (PRWEB) May 22, 2013
Media Cybernetics announces the release of a new Fiber Separation and Measurement App for Image-Pro Premier image analysis software. For years, Quality Assurance and Failure Analysis researchers have been looking for better ways to automatically measure the lengths and widths of overlapping fibers.
Since most image analysis programs are unable to separate fibers, these researchers have had to rely on manual processes to quantify the lengths of fibers. This manual process was not only time consuming, but it could also introduce errors and inconsistencies. Now, with the Image-Pro Premier Fiber Separation and Measurement App, it is possible to automatically measure and classify overlapping fibers with one click.
The Fiber Separation and Measurement App makes it possible for researchers to acquire fiber images with a digital camera and then automatically measure the lengths of these fibers. The fibers can then be classified by length and displayed in user-friendly colored overlays and an interactive data histogram. All measurement data can be exported to Excel for further analysis.
"We're excited to offer such an easy, streamlined approach to a problem that has plagued researchers for years," said Kathy Hrach, Media Cybernetics' General Manager. "With the new Fiber Separation and Measurement App, a process that took researchers hours to complete has now been condensed to seconds. Not only will users save time with this new app, but they'll also be able to produce consistent results again and again."
The Fiber Separation and Measurement App is available at no charge for Image-Pro Premier users. It can be easily downloaded and installed from Media Cybernetics' Solutions Zone app resource site. Researchers can request a free 14-day trial of Image-Pro Premier to review and test this App with their images.
About Image-Pro Premier Software
Based on over 25 years of input from Image-Pro Plus software users, Image-Pro Premier offers intuitive tools that make it easy to capture, process, measure, analyze and share your images and valuable data. The new Image-Pro Premier offers 64-bit support, a user-friendly interface, intuitive macros and app building tools, and improved automatic segmentation and classification tools.
About Media Cybernetics
Founded in 1981, Media Cybernetics develops image informatics solutions to automate research, development, and quality control processes in life science and industry. The company's products simplify and enhance image-based data collection and analysis to increase the accuracy and productivity of its customers. For more information about Media Cybernetics, visit http://www.mediacy.com.