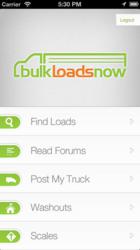 Bulk Loads Now load board averages 10 new smart phone users daily
Nixa, MO (PRWEB) May 22, 2013
BulkLoadsNow.com, a fast-growing bulk truck freight matching site, launched a new iPhone app for it's carrier members. Bulk Loads Now load board averages 10 new smart phone users daily. The app, much like the website, provides carriers the ability to post their truck, read forums, find washouts, and DOT scales for free. Premium members can find loads from their current location, search loads by origin or by destination.
"The new app will allow us to continue to add more features for our members," Matt Fredin, Operating Partner said. "With the app, we are providing the same features in an easier and faster type of communication."
Smart phone apps are a growing trend in the transportation industry and ours is specific to bulk freight for the agriculture sector. BulkLoadsNow.com first launched its smart phone apps for both iPhone and Android users in late July 2012. The app can be used on iPhone and Android.
"We knew that our current users needed this to help them do business on the road without the need of a computer. With over 25 percent of truckers using smartphone apps to do business we knew there was a demand for an app in the bulk industry," said Jared Flinn, Operating Partnerat Bulk Loads Now. "The amount of posts to our forum from the smart phone clearly shows how popular our app is."
The app can be found by going to the App Store and searching 'BulkLoadsNow' or online at https://itunes.apple.com/us/app/bulk-loads-now/id641831669?mt=8
About BulkLoadsNow.com
BulkLoadsNow.com is an online community of professionals in North American's bulk freight industry. Our shipper members are transportation logistics managers of grain, fertilizer, aggregates, feed ingredients and all agriculture commodities. Our carrier members pull hopper bottoms, walking floors, end dumps, belts, live floors, pneumatics and liquid tanker trailers. We provide to our members the industry's most innovative bulk freight solutions including an enhanced load board, database of all carriers in North America, instant communication tools, industry forums and news updates, and much more.