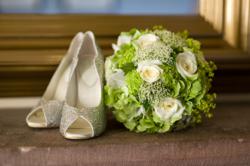 Newport Beach, CA (PRWEB) May 21, 2013
Couples are giving cocktail hour a whole new meaning by forgoing full bars and serving guests one or two signature drinks at their wedding reception. (http://www.tampabay.com/things-to-do/food/spirits/couples-cut-costs-but-have-fun-with-specialty-cocktails-at-weddings/2113890).
Brides and grooms, along with their bartender, are dreaming up special cocktails for the big day that represent the couple's tastes from the drink's look to its name. Brainstorming ideas for drinks come from the couple's wedding colors, favorite flavors or even something they share (or will share) in common like their wedded last name.
"The Honey B was a drink thought up by a couple who shared the same initials for both their first and last names," says Brett Reynolds, CEO of Wedding.com. "Even the bride's middle name started with a B making it a great choice for their wedding's signature drink. It reflected the couple personally, as well as conveying a sweet sentiment."
In order to create the perfect wedding day concoction, couples should set up a taste test with their bartender to sample different flavors and blends until they find "the one" or two drinks they love.
Signature drinks can also save couples money, as cutting out a full bar also cuts down on costs. But while the bride and groom's bank account feels the relief, guests will think otherwise.
"Serving specialty cocktails can make a wedding feel more upscale without the upscale price," Reynolds said. "There's a classier feel to sipping on Lavender Margaritas as opposed to the usual rum and cola."
For those interested in having more options available aside from the signature drinks, a selection of beer or wine can also be served, along with punch or soft drinks for kids and non-drinkers. Couples find it beneficial to post a drink menu announcing the custom cocktails, as well as any other offerings. Depending on the wedding's theme or décor, the menu can be a D.I.Y. project or professionally made.
From the fun flavors to the swizzle sticks, signature drinks have found a place in today's wedding toasts. And one thing's for sure: these clever cocktails will certainly leave a lasting impression on guests as they raise their glasses to the newlyweds.
About Wedding.com
Wedding.com is an innovative new website that connects engaged couples planning their wedding with wedding vendors looking to grow their business. Wedding.com contacts vendors for couples, giving them the power to compare and negotiate while ultimately saving time and money. With 15,000 couples and 25,000 vendors currently using the website, 150,000 proposals have already been sent since their inception.  Vendors range in services from wedding planners, photographers, florists, and DJs to custom invitations, party favors, and much more. For additional information about the company and its services, please visit Wedding.com.