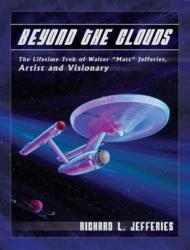 He was just what Gene wanted. -Majel Barrett Roddenberry
Dallas, Texas (PRWEB) May 22, 2013
"Star Trek: Into Darkness," directed by J.J. Abrams, tops box office charts!
Now Trekkies can take a look back in time to the original USS Enterprise in the book "Beyond the Clouds: The Lifetime Trek of Walter 'Matt' Jefferies, Artist and Visionary" (Brown Books Publishing Group), by Richard L. Jefferies.
A renowned aviation artist, Walter "Matt" Jefferies is best known for his work as the art director of the original Star Trek television series—and for designing the most widely recognized spacecraft of all time, the USS Enterprise.
In "Beyond the Clouds," Richard L. Jefferies not only chronicles his older brother's professional accomplishments but also reveals the artist's lesser known early life and provides an intimate look at the origins of his visionary talents.
In order to fully appreciate the work of Matt Jefferies, Richard L. Jefferies claims you must know the roots from which his artistic vision sprang. Beginning his account with their childhood, the author shares his memories of the close-knit family in which the boys grew up and the values it instilled in them: honor, love, hard work, and obedience.
"How well I remember Mother's admonition: 'Matt, put that airplane down and eat your breakfast or you will be late for school.' 'Yes ma'am,' Matt replied as his little red plane was brought in for a perfect three-point landing alongside his plate of pancakes."
These were principles Matt Jefferies would never abandon.
"I loved Matt Jefferies. He was a good friend all during the years of 'Star Trek,'" says William Shatner, writer and actor. "He was always a dear friend and a source of knowledge about 'Star Trek' that very few people knew."
This beautiful, full-color biography takes readers through Matt Jefferies' childhood and the lean years of the Great Depression; the uncertainty of World War II, during which he volunteered for active duty in the Air Corps and served in Europe; and his following personal and professional triumphs.
Majel Barrett Roddenberry, wife of Gene Rodenberry, the creator of Star Trek, says, "Matt Jefferies was inspiring yet humble, his art and feel giving form to Gene's dream. So much of what made 'Star Trek' beloved came from his pen."
"His heart was always in the sky," adds Dorothy Fontana, 'Star Trek' script writer.
This biography—which also contains unique show trivia, including the Matt Jefferies' original sketches for the USS Enterprise—is a must read for every Star Trek fan.
Books are available online and in bookstores.
To learn more visit http://www.MattJefferies.com.
About the Author:
Richard L. Jefferies is a mechanical engineering graduate of Virginia Tech. During World War II, he served with the Army Engineers as an engineering instructional officer. Following discharge from active duty, he began a fifty-six-year career as an application engineer for several international heavy equipment firms. His assignments took him to the far corners of the world, including a three-year residency in Saudi Arabia. He is a historian, an author of technical papers, and a motivational speaker. Richard and his wife, Tina, reside in Dallas, Texas.
About Brown Books Publishing Group:
Brown Books Publishing Group is an Texas-based independent publisher. To learn more about the publisher, please visit http://www.BrownBooks.com.
# # #