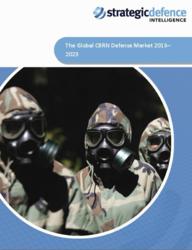 Rockville, MD (PRWEB) May 22, 2013
The global CBRN defense market is estimated to value US$9 billion in 2013. The market consists of CBRN protection, detection, decontamination, disposal, and simulation equipment, and is expected to witness a marginal increase during the forecast period, primarily due to modernization initiatives planned in North America and Europe, and threats from terrorism and hostile neighboring countries in the Asia Pacific and Middle Eastern regions. The market is expected to increase at a CAGR of 4.2% during the forecast period, to reach US$13.7 billion by 2023. CBRN protection equipment is expected to account for the majority of the global CBRN defense market, followed by detection and decontamination systems.
One of the key issues facing the industry is to develop technically advanced and cost effective prototypes that can be transferred to mass production without much difficulty. The major impact is currently felt in developing advanced protective suits that need to counter changing threats while at the same time being light so as to minimize the physical load on the wearer. Specifically, companies are trying to address the heat load stress issue by aiming for a balance between a generic outfit and a highly technological garment. These innovations require significant funding and with the global economy just emerging from the economic crisis and defense budgets being cut, companies are hard pressed to get the required funding.
Since the CBRN protection industry is currently in its nascent stage, it requires considerable funding from the public and private sectors to develop effective counter measures against potential threats. However, recent years have witnessed various instances of neglect towards the CBRN sector; cancelled programs, cutbacks in research funding, and a focus on other defense sectors threaten to plague the industry. In 2004, the US Congress passed the Project BioShield Act in a bit to get the private sector to develop medical countermeasures against CBRN terrorism agents and to provide a mechanism for the government to acquire these countermeasures.
One of the main factors resulting in continuous demand for CBRN protection, detection, and decontamination equipment is the dual use of these agents in everyday life. The advancement in the fields of biotechnology, nuclear energy, and life sciences has the potential to bring about significant benefits for the betterment of mankind; however, these developments can also be used for hostile purposes and to perpetrate various instances of bio-terrorism, which is why it is imperative for scientists and the security community to constantly engage with each other and devise methods to prevent or counter any forms of CBRN terrorism.
For more information, visit http://www.marketresearch.com/land/product.asp?productid=7570159&progid=85457
Follow us on Facebook http://www.facebook.com/marketresearchdotcom
Follow us on Twitter http://www.twitter.com/marketresearch_
About Strategic Defence Intelligence
Strategic Defence Intelligence provides a stream of continuously updated customer and competitor intelligence, as well as detailed research reports providing an unrivalled source of global information on the latest developments in the defence industry. Strategic Defence Intelligence's unique monitoring platform tracks global defence activity for over 2,500 companies and 65 product categories in real time and in a highly structured manner, giving a comprehensive and easily-searchable picture of all defence industry activity.
About MarketResearch.com
MarketResearch.com is the leading provider of global market intelligence products and services. With research reports from more than 720 top consulting and advisory firms, MarketResearch.com offers instant online access to the world's most extensive database of expert insights on global industries, companies, products, and trends. Moreover, MarketResearch.com's Research Specialists have in-depth knowledge of the publishers and the various types of reports in their respective industries and are ready to provide research assistance. For more information, call Cindy Frei at 240.747.3014 or visit http://www.marketresearch.com