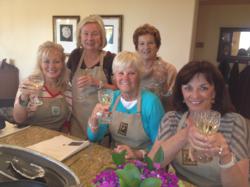 " What a fun way to spend a day in La Jolla! Foodie Paradise! Fabulous Experience!
Frances Jacoby
San Diego, CA (PRWEB) May 21, 2013
Lajollacooks4u, a San Diego hands-on culinary cooking company, was the selected venue for a women's travel group vacationing in La Jolla.
What initially began as a traveling Garden Club from Arizona, founded over 13 years ago, has blossomed into a small group of women who call themselves "The Traveling Chicks". The Traveling Chicks travel annually together to enjoy their friendship, fun, food and wine. This year La Jolla was the chosen destination where over four hours were spent prepping, cooking and dining in the kitchen of LajollaCooks4u.
The ladies were guided through cooking a fabulous four-course luncheon together. Owner, Chef and founder of Lajollacooks4u, Jodi Abel, who specializes in Californian Cuisine takes great pride in providing seasonal ingredients. Consequently, the menu was abundant with spring fruits and vegetables. The Salad of Mixed Greens, Fresh Berries, Roasted Purple Onion and Fennel in a Parmesan Cheese Basket was complimented with a 2010 King Estate Pinot Grigio – a perfect way to begin the meal. The main course consisted of Herb Crusted locally-caught Halibut accompanied with a Caper Vinaigrette and Spring Vegetable Quinoa Pilaf. A 2010 Poppy Pinot Noir was served. For dessert the women enjoyed a fresh Plum Tart with Marzipan Crumble and Crème de Casis.
Lanette Valerio, one of the Traveling Chicks, described the event as a highlight of their trip. "This was undoubtedly one of the best ways to spend time together," Valerio said. "Learning new recipes and sharing ideas in the kitchen while we cooked and baked makes us want to come back," Valerio said.
Lajollacooks4u was founded in 2008 and modeled after a European concept. Chef Jodi welcomes guests into her lovely Italian villa for a very special hands-on culinary adventure. Nestled atop Mt Soledad, La Jolla, CA, with stunning views of the Pacific Ocean, guests are shown how to prepare their culinary delights and then, under the direction of Chef Jodi, begin their own preparation. Lajollacooks4u specializes in Team-Building Activities, Farmer Market & Foodie Tours, special occasions and Culinary Weekends. Lajollacooks4u has enjoyed record growth since its inception and has been ranked a top attraction in La Jolla on the world's largest travel review site, Trip Advisor. For more information, contact Jodi Abel at jodi(at)lajollacooks4u(dot)com or phone - 858-752-4980.
-30-