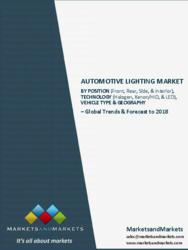 Rockville, MD (PRWEB) May 23, 2013
In any automobile, lighting is a very essential component. With continuous developments in LED and adaptive lighting technologies, many automotive manufacturers have ended up lowering the level of energy consumption in various lighting units as well as enhanced the safety aspect of the vehicle by providing improved visibility.
The primary purpose of lighting in vehicle is to provide visibility for the driver under darkness and bad weather conditions and to intimate the vehicle presence, position, and size to other pedestrians and motorists on the road.
Other than these purposes, lighting is also installed inside vehicles to increase the look of vehicles interior, which has become a major part of attraction mainly in passenger cars. The three major technologies used in automotive lighting are halogen, xenon/HID, and LED of which halogen is the most widely used technology.
The global automotive lighting market revenue is estimated to reach $25.36 billion by 2018. Major factors responsible for the growth of automotive lighting market include the increasing concern towards road safety, lighting legislations setup by respective governments, and higher efficiency of LED automotive lighting technology.
Also, the increasing purchasing power of consumers has given rise to the demand for advanced and sophisticated technologies such advanced front lighting system (AFS) and daylight running lights (DRLs). Increasing vehicle production in the BRIC nations would serve as a potential market for automotive lighting in the coming years.
The key concerns in the industry pertain to the high cost of LED lighting technology and the high R&D costs involved in developing such advanced technologies.
The advancements in automotive lighting technologies have led to several modifications mainly in the passenger car segment. With the development of LED lighting technology the market witnessed a good rate of installation in the premium segment of passenger cars mainly in the tail lamps, front DRLs, and vehicle interior. Currently, LED technology is used in front head lamps as well.
Owing to improved driving visibility, higher efficiency, longer life span, high resistance to vibration, smaller packaging level, and flexibility to make lighting units of different shapes and sizes; the usage of LED lighting in the automotive industry increased to a great extent and is further expected to grow at a promising rate in coming years. Apart from passenger cars, even two wheeler manufacturers have started including LED technology in their blinkers and tail lamp units.
For more information, visit http://www.marketresearch.com/land/product.asp?productid=7576149&progid=85460
Follow us on Facebook http://www.facebook.com/marketresearchdotcom
Follow us on Twitter http://www.twitter.com/marketresearch_
About MarketsandMarkets
The MarketsandMarkets edge: Worldwide, market research reports are primarily sold for numbers, market segmentation and competitive landscape, within the business leaders.
The analyst working with MarketsandMarkets come from the renowned publishing houses and market research firms globally adding their expertise and domain understanding. We get the facts from over 22,000 news and information sources, a database of hundred thousands of key industry participants and draw on our relationship with more than 900 market research companies globally.
In course of our ongoing relationship with research partners for over a period of three years, our clients have discovered that we can not only head-start any given research project immediately but also execute it in a stipulated time frame. We always prioritize our commitments of confidentiality. The fact that a high percentage of our business comes from client referrals bears ample testimony to the quality of our market research reports.
About MarketResearch.com
MarketResearch.com is the leading provider of global market intelligence products and services. With research reports from more than 720 top consulting and advisory firms, MarketResearch.com offers instant online access to the world's most extensive database of expert insights on global industries, companies, products, and trends. Moreover, MarketResearch.com's Research Specialists have in-depth knowledge of the publishers and the various types of reports in their respective industries and are ready to provide research assistance. For more information, call Cindy Frei at 240.747.3014 or visit http://www.marketresearch.com