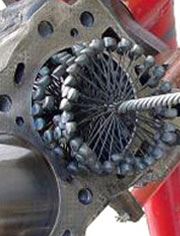 For cylinder honing, the BRM Flex-Hone® is superior to rigid hones such as honing stones.
Los Angeles, CA (PRWEB) May 21, 2013
Brush Research Manufacturing (BRM), makers of industrial brushes and flexible hones, is announcing Flex-Hone® tools for engine rebuilds. Built with a stiff metal stem and flexible nylon abrasive filaments, these engine hones impart an ideal surface finish that optimizes lubrication and reduces wear. BRM ball hones are also used to deglaze engine cylinders and deburr auto parts.
Engine Block Restoration Specialists
Engine restoration specialists such as Speed-O-Motive are using the Flex-Hone® tool to rebuild big block engines. The West Covina, California machine shop also uses an advanced engine block cleaning system that features a specially-designed bead blaster. According to Tom Dufur, contributor at the automotive website Hot Rod Engine Tech, Speed-O-Motive chooses the right engine tools, including bottoming taps.
For cylinder honing, the BRM Flex-Hone® is superior to rigid hones such as honing stones. Self-centering and self-aligning to the bore, the flexible hone uses a low-temperature surface finishing technique that removes harsh peaks and creates oil-retaining valleys. Known as a plateau finish, this substantially flat surface also creates a greater bearing area and improves piston ring seating and sealing,
Expert Advice for Engine Builders
Engine mechanics should always coat the Flex-Hone® with a lubricant, preferably Flex-Hone® oil, and never hone for longer than 20 to 45 seconds per cylinder, according to the Flex-Hone® instructions on the company's website. Tool diameter determines the revolutions per minute (RPM). With engine rebuilds, operate Flex-Hone® tools with a diameter of 4mm to 1/2" at 1000 – 1200 RPM, 1/2" to 2" at 900 – 1000 RPM, 2" to 3 3/4" at 600 – 900 RPM, 4" to 7 1/2" at 350 – 600 RPM, and 8" to 11" at 225 – 300 RPM.
Flex-Hone® users are also instructed to select a BRM engine hone that's oversized for the cylinder and to rotate the tool prior to entry. After honing for 60 to 120 strokes per minute, flexible hone users should accelerate final stroking to produce an ideal 45° cross-hatch angle. After plateau honing is complete, wash each cylinder with a soft nylon brush, warm or hot water, and a mild detergent. Finally, oil the engine cylinders to prevent corrosion.
About Brush Research Manufacturing
Brush Research Manufacturing (BRM), makers of a full line of flexible honing tools and industrial brushes, is located in Los Angeles, California. Since 1958, BRM has been solving difficult finishing problems with brushing technology. BRM's Flex-Hone® tool is the standard against which all other surface finishing tools are compared and has numerous applications in the automotive industry.
Media Contact:
Heather Jones
Director of Marketing
Brush Research Manufacturing Co. Inc.
4642 Floral Drive
Los Angeles, CA 90022
HJones(at)brushresearch(dot)com
For Immediate Release:
http://www.brushresearch.com/
Ph: (323) 261-2193