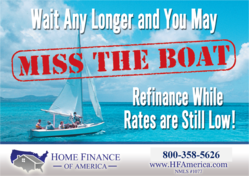 Plymouth Meeting, PA (PRWEB) May 21, 2013
Home Finance of America, a national leader in internet based home mortgage lending, is reporting drastic fluctuations with the external market conditions that influence mortgage rates over the past week. In response to the external market conditions, Home Finance of America has created a new marketing campaign encouraging homeowners still in a position to refinance to do so as soon as possible. As part of their new "Don't Miss the Boat" campaign, Home Finance of America is currently offering special low mortgage rates that are only slightly higher than the record low mortgage rates being offered in late April and early May of 2013. A part of Home Finance of America's goal with "Don't Miss the Boat" is to warn homeowners opting to wait for another drop in the mortgage rates that they could be making a very costly mistake and they should refinance as quickly as possible.
As of Tuesday May 16, 2013, as part of their "Don't Miss the Boat" special mortgage rates, Home Finance of America is offering a 30 year fixed rate mortgage at 3.500% (APR 3.648%) and a 15 year fixed rate mortgage at 2.625% (APR 2.911%). These incredibly low rates make sense for most homeowners qualified for a conventional refinance to do so now if they have not refinanced in the past year. The better mortgage lenders like Home Finance of America offer a wide array a mortgage programs at low interest rates to accommodate the financial goals of nearly any qualified borrower.
Home Finance of America is among a select few lenders that offer clients the security and peace of mind of an immediate interest rate lock in a volatile market. Home Finance of America will lock an interest rate for at least 30 days immediately after a licensed loan officer takes a complete mortgage application over the phone. Many lenders will make the borrower wait up to a week after applying for a loan to lock a rate. This puts the consumer at risk of higher rates due to market fluctuations.
About Home Finance of America:
Since 1993, Home Finance of America has specialized in originating low rate residential loans to qualified borrowers. They are headquartered just outside of Philadelphia, PA. As a direct mortgage lender, HFA can lock-in low rates at application, and with an A+ rating with the Better Business Bureau; borrowers are assured that their customer service is the best in the mortgage business. Borrowers can apply by phone by calling 1-800-358-5626.