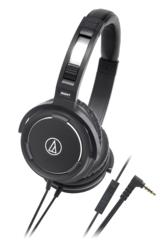 Solid Bass, noise-cancelling QuietPoint and SonicSport headphones offer a variety of personal listening choices at home and on the go.
STOW, OHIO (PRWEB) May 21, 2013
Father's Day and graduations are almost here, and Audio-Technica offers headphones that let dads and grads enjoy their favorite music anywhere. The impactful Solid Bass, noise-cancelling QuietPoint® headphones and fitness-oriented SonicSport models offer a variety of personal listening choices at home and on the go.
Audio-Technica's new ATH-WS55i over-ear and ATH-CKS55i in-ear Solid Bass headphones ($119.95 and $79.95 U.S. SRP) deliver impactful bass along with accurate midrange and highs, for those who want to hear hard rock, hip-hop, electronica and other bass-driven music the way it was meant to be heard. Both feature an integrated mic and in-line three-button remote for iPhone™, iPad® and iPod® that lets wearers control volume and music playback functions. The remote also lets iPhone users answer calls over the headphones, or while talking via Skype or VoIP on an iPhone, iPad or iPod touch®.
The headphones utilize an exclusive Double Air Chamber System that controls and focuses the air flow from the drivers to provide expanded bass output. Also available are the ATH-WS55 (in black and red/black) and ATH-CKS55 ($99.95 and $69.95 U.S SRP), which offer the same features as the ATH-WS55i and ATH-CKS55i without the communications capabilities.
Other new Solid Bass headphones are now available in a variety of price ranges. They include the over-ear ATH-WS99 and ATH-WS77 ($249.95 and $149.95) and the in-ear ATH-CKS1000 ($249.95), ATH-CKS99i ($169.95), ATH-CKS99 ($149.95) and ATH-CKS77 ($119.95); all prices U.S. SRP's. Solid Bass headphones are currently available at retailers and http://www.shopaudiotechnica.com.
Who doesn't need a little peace and quiet now and then, especially when they want to listen to favorite music? Dads and grads will be sure to appreciate Audio-Technica's new QuietPoint® active noise-cancelling ATH-ANC29 over-ear headphones. It features redesigned earcups and a bold Audio-Technica logo for a sleek, contemporary look, and a restyled headband with extra padding for a comfortable fit. Designed to deliver exceptional sound with powerful bass, a natural midrange, detailed treble and precise imaging, the ATH-ANC29 ($99.95 U.S. SRP) offers up to 87% noise cancellation and works even if the batteries run out. Its detachable cord also enables its use as cordless noise-cancelling headphones.
The ATH-ANC29 will be available before Father's Day at RadioShack and Staples, as well as other retailers and http://www.shopaudiotechnica.com.
Audio-Technica's new SonicSport in-ear headphones are designed for stay-in-place fit while jogging, sports and active use. All have an IPX5 lab-certified waterproof rating and are sweat-proof and washable. The ATH-CP700 ($99.95 U.S. SRP) model has an in-line volume and music playback functions for compatible Apple® devices, and features a thin headband that wraps around the back of the head. It also has a flexible pivot ear-fit design that directs clear audio and impactful bass toward the ear canal, while allowing awareness of outside sounds. The ATH-CKP500 headphones ($74.95 U.S. SRP) feature secure-hold C-tip earpieces that nestle in the outer ear, while the ATH-CKP200 ($49.95 U.S. SRP) has a hinged ear hook that adjusts around the ears. The ATH-CKP500 and ATH-CKP200 are available in a variety of colors and have XS/S/M/L choice of sound isolating eartips, and ridged eartips to allow a low amount of ambient sound for great safety outdoors.
SonicSport headphones will be available at Airport Wireless Stores, on Amazon.com, and at other retailers and http://www.shopaudiotechnica.com. In addition, the ATH-CKP200 will be available at Staples in late May.
Celebrating over 50 years of audio excellence, Audio-Technica is renowned worldwide for a broad range of consumer and professional audio products, including high-performance headphones, microphones, wireless systems, turntables and phono cartridges. Winner of numerous industry awards, Audio-Technica designs and manufactures products that set quality, durability and price/performance standards for major concert tours, broadcast and recording studios, corporate and government facilities, theaters, house-of-worship venues, and consumer applications. Learn more at http://www.audio-technica.com.
— For more information on the complete range of Audio-Technica products, contact Karen Emerson or Crystal Griffith, Audio-Technica U.S., Inc., 1221 Commerce Drive, Stow, OH 44224. Tel: (330) 686-2600.
— For further information regarding product availability and pricing in the United Kingdom, please contact Harvey Roberts, hroberts(at)audio-technica(dot)co(dot)uk; in Germany, please contact Anja Groth, a.groth(at)audio-technica(dot)de; in the rest of Europe, please contact Evangéline Pirot, epirot(at)audio-technica-europe(dot)com.
Apple, iPod, iPad and iPod touch are trademarks of Apple Inc., registered in the U.S. and other countries. iPhone is a trademark of Apple Inc.