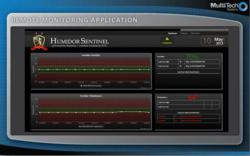 It really showcases how we work with partners to develop a solution that can easily be presented to a customer for fast and easy implementation - Michael Gustafson, Multi-Tech Systems
MINNEAPOLIS, MN (PRWEB) May 21, 2013
Multi-Tech Systems, a leading M2M (machine-to-machine) solutions provider, is showcasing how easy it is to monitor connected devices in your home. A demonstration of a cloud connected humidor is one of several applications that will be presented at the Multi-Tech booth (#6134) in the M2M Zone at CTIA this week.
"The connected humidor is a simple application that features the latest technology anSDd Multi-Tech's depth and breadth of application knowledge," said Michael Gustafson, Vice President of Marketing, Multi-Tech Systems. "It really showcases how we work with partners to develop a solution that can easily be presented to a customer for fast and easy implementation."
The "Humidor Sentinel" is an Edge-to-Enterprise IOT consumer product solution, allowing users access to the latest technology to manage their humidor environment. The solution was developed by Harbinger Intelligent Solutions and 2lemetry, which provides the most scalable, secure cloud application platform that turns data into actionable intelligence.
Jim Cairns, CEO of 2lemetry, adds, "The rapid development cycle 2lemetry offers results in a solution that accelerates our customers' connectivity initiatives yet is easily scalable to markets worldwide."
Cigars can be very expensive, so the solution allows a user to closely monitor and take action in order to protect the quality of the cigars. Wirelessly connected sensors in combination with 2lemetry's cloud platform solution allow a user to receive an alert when the humidor door is opened and if the level of humidity or temperature moves outside a specified range. The humidor monitoring solution in combination with Multi-Tech's cellular gateway technology provide a wealth of benefits that allow users to monitor, receive alerts, or take action from anywhere in the world – no matter how remote. This is one example of how Multi-Tech partners with others to create a complete solution and show what's possible with any application that could benefit from M2M, enabling customers to increase productivity, make better, more timely decisions, cut costs, and even create a barrier from competition.
The MultiModem® rCell intelligent wireless routers offer secure data communication via the integrated cellular modem. These ready-to-deploy, standalone routers provide 2G and 3G, GSM and CDMA performance and integrate seamlessly with virtually any application. The intelligent embedded operating system allows for automatic/persistent connectivity for mission-critical applications and enhanced M2M functionality. The MultiModem rCell intelligent wireless routers include 10/100BaseT Ethernet and RS-232 serial connectivity.
Interested parties visiting the CTIA show, which runs between May 21st – May 23rd 2013 in Las Vegas, can view the Humidor Sentinel and three other demos that have simplified M2M, at the Multi-Tech Systems booth #6134 in the M2M Zone.
About Multi-Tech Systems
Multi-Tech Systems has been delivering industry-leading M2M (machine-to-machine) communications solutions since 1970. With more than 22 million devices deployed worldwide, Multi-Tech focuses on helping customers achieve the shortest path to M2M connectivity – from concept to implementation and total lifecycle management. Whether a project is simple or very complex, Multi-Tech has the resources and expertise to work with any development team to customize a hardware or software solution that maximizes speed to market and return on investment. With carrier-approved external and embedded modems and gateways, Multi-Tech makes it easy and fast to connect your devices to networks anywhere in the world. We work with clients in almost any market to enable cellular, analog, Wi-Fi®, Bluetooth® and GPS capabilities into a solution to achieve superior business results. If we don't have it, we will develop it. Multi-Tech established its reputation for Innovative Designs and Innovative Solutions by obtaining 80+ patents and certifications from more than 30 carriers and over 80 countries. Multi-Tech has made M2M Simplified for thousands of customers around the globe. http://www.multitech.com. Twitter: http://www.twitter.com/MultiTechSys
About 2lemetry
2lemtry provides the most scalable, secure cloud application platform to connect any device, using any protocol and transform that data to real-time actionable intelligence anywhere in the world. 2lemetry takes customers' concepts and turns them into market ready reality in weeks not years. Visit http://www.2lemetry.com to realize your potential.
About Harbinger Intelligent Solutions
Harbinger Intelligent Solutions is a company focused on enriching people's lives by offering technology that enables products to make life simpler. For more information visit: http://humidorsentinel.com/.