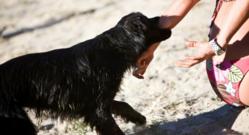 Karen Arnoff, dog behaviorist at The Dog Owner Connection says "There is never a bite before the first bite, but there are warning signs."
Cleveland, OH (PRWEB) May 27, 2013
Karen Arnoff, dog behavior specialist and owner of the Dog Owner Connection, believes that, "A week to focus on dog bite prevention is a good start." "But now," she warns, "awareness is just the beginning." Karen believes that "Parents, children and other adults need to practice the 'What to do's' and dog owners need to follow through with quality, proactive anti-aggresiveness dog training."
It's May. It's spring! And the fall-winter puppies and dogs (and their owners) are eager to get outside. And, the puppies, many now entering adolescence, are encountering a world that is new to them. Many are neither well socialized nor trained. And they come across running children, backpacking letter carriers, speeding bikers and funny-walking elders. Thus, the stage is set for another year of dog bites
Dogs bite over 4.5 million people in the U.S. every year.(1) In 2012, Ohio was 4th in the nation in terms of dog bite claims and State Farm Insurance Company had 235 claims and paid out $5 million.(2) Young children, 5 – 9 are the most frequent victims of dog bites with letter carriers and the elderly not far behind. (3)
Some things to do and not do with an unknown dog
1) Don't run past a dog. Dogs love to chase and catch things
2) If approached by a dog, stay still; avoid eye contact.
3) If threatened by a dog, don't scream or yell. Don't run.
4) If someone falls or is knocked to the ground, they should curl into a ball, put hands over their head and protect neck, face and internal organs. (See other resources listed below. (4))
5) With children, practice standing still, avoiding eye contact and the ball-curling protective procedure.
What to do If your dog bites someone.
1) Restrain and confine your dog immediately
2) Help the victim clean bite wounds and seek professional medical advice immediately.
3) Comply with area ordinances regarding reporting of dog bites
4) Consult with a qualified dog behavior specialist to obtain a complete behavior profile of your dog so that that you can retrain him and prevent similar problems in the future.
What to do If you are bitten.
1) If your dog bites you, confine it immediately, (get medical attention if needed) and consult with DOC or a qualified dog behavior specialist in your area to prevent future aggression.
2) If someone else's dog bites you, seek medical treatment and call authorities.
DOC may also helpful if you need to file a legal claim.
How to Prevent a Dog from Biting.
1) Fall-winter puppies need to have anti-aggressiveness training and appropriate socialization
2) If an adult dog exhibits any defensive warning signs, get help right away. (For a fuller discussion of this see the article, The Unexpected Bite.)
National Dog Bite Prevention Week is over. The work of preventing dog bites, however, needs to begin now...and continue, if we really want to prevent dog bites the rest of the year.
______________
1 American Veterinary Medical Association, avma.org/public/Pages/Dog-Bite-Prevention.aspx
2 State Farm Insurance statefarm.com/aboutus/_pressreleases/2013/nj-sf-lists-top-states-for-dog-bite-claims.asp
3 Centers for Disease Control, cdc.gov/homeandrecreationalsafety/dog-bites/dogbite-factsheet.html
4 The Blue Dog Parent Guide and CD, tested for children from 3 to 6 years old as part of a more comprehensive prevention program, $8, American Veterinary Medical Association,avma.org/KB/K12/Pages/AVMA-Products-The-Blue-Dog.aspx
DOC deals comprehensively with the prevention and correction of dog behavior problems. DOC also assists in legal (forensics) and insurance matters involving dog bites and attacks.
Karen Arnoff is a legal and forensic expert in dog related incidents. Whether for plaintiff or defense attorney or insurance company, criminal or civil in nature, Karen Arnoff can help build the best possible case in legal matters involving dogs.