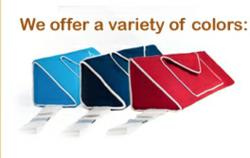 Toddler bed rails from Two Hippos are designed to be soft, fun, and keep children safe.
Miami, FL (PRWEB) May 22, 2013
Toddler bed rails from Two Hippos are designed to be soft, fun, and keep children safe.
Two Hippos, an American family-owned business, is dedicated to producing products that help children lead happier and safer lives. Using natural materials that are soft and easy to clean, Two Hippos' products now come in bright colors and feature soft, plush textures that children love.
The company's Wall Bumpi bed rails are among the softest and easiest to use child bed rails on the market. Created to help children as they make the transition to a real bed, the Wall Bumpi helps prevent kids from being injured by rolling out of bed and keeps them cozy by keeping them from rolling into cold walls. With a 100 percent cotton upholstery canvas cover and a flame retardant, high-density foam filling, the Wall Bumpi is easy to clean, soft, comfy, and safe. The Wall Bumpi is unlike any other toddler bed rail, as it now also features a large storage pocket where children can store their favorite books, prized toys, and other special treasures.
The Wall Bumpi is now available in several sizes - 28", 38", and 54" - making it the perfect sleeping solution for both toddlers and older children. Available in new colors that both boys and girls will love and portable enough to go anywhere a child goes, the Wall Bumpi is both fun and functional. Two Hippos likes making children happy, so, as a special touch, each Wall Bumpi ships with a Big Kid Certificate to congratulate the child on their transition to a big kid bed.
In addition to being popular with parents, the Wall Bumpi has garnered a great deal of praise for Two Hippos from industry groups. In 2012, Two Hippos was awarded the Huggies Mom Inspired Grant for inventing the Wall Bumpi. This award is highly competitive, with many outstanding businesses and brilliant inventors vying for the prize. As such, winning this grant was a significant accomplishment for the Two Hippos family, both as a small business and as inventors.
Recently, Two Hippos launched a brand new website. With its clean design, easy navigation, high-quality product images, and simple and secure ordering process, the site makes it easy for parents to order all of Two Hippos' products, including the Wall Bumpi.
Two Hippos is proud of its American-made products that are designed to improve the lives of children. To learn more about Two Hippos and the Wall Bumpi, visit their website, created by Miami web design firm, NetroStar, at twohipposstore.com.