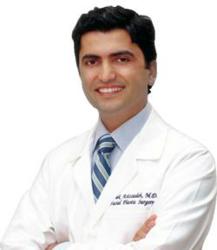 Dr. Larian and I often work together as a team to bring our patients the highest level of quality care.
Beverly Hills, CA (PRWEB) May 22, 2013
According to a new article, recent studies have depicted a nearly 30% increase in heart attacks and death in individuals who suffer from a condition known as sleep apnea. The term 'sleep apnea' covers a wide variety of sleep related breathing disorders, which are categorized into multiple classifications including central sleep apnea (CSA), obstructive sleep apnea (OSA), and mixed sleep apnea. Causes of obstructive sleep disorders are multiple and a variety of anatomic issues involving the throat, neck and nasal passageway may be involved. Nasal surgery such as septoplasty, rhinoplasty, sinus surgery and turbinate reduction may play a role in the surgical management of individuals suffering from OSA who have not been able to obtain satisfactory results from conservative treatments.
The most common treatment protocol for individuals dealing with sleep apnea is a breathing machine called a CPAP that ensures oxygen flow while the individual is asleep. Because this machine works best when deviated septum, nasal valve collapse or other contributing factors don't block the nasal passageway, a rhinoplasty is an ideal way to restore function to the nose.
"It's a common misconception that a rhinoplasty will only benefit the outer appearance of your nose. Though this is why many patients undergo the procedure in the first place, I'd like it to be widely known that during a nasal surgery, the patient's breathing can be improved tenfold, especially those who suffer from obstructive sleep apnea," said Dr. Azizzadeh.
At the Institute for Rhinoplasty & Nasal Reconstruction in Los Angeles Dr. Babak Azizzadeh, expert facial plastic and reconstructive surgeon, says it's very common for patients to breathe easier just a few weeks after their procedure. When a patient is experiencing severe septal problems or nasal polyps, Dr. Azizzadeh often enlists the help of ENT specialist Babak Larian, MD, FACS, to ensure his patients receive the best care possible.
"Dr. Larian and I often work together as a team to bring our patients the highest level of quality care. With my knowledge in facial plastic surgery and his expertise in sinus and breathing problems, we're able to approach each rhinoplasty and nasal surgery with the best mastery possible," said Dr. Azizzadeh.
Dr. Azizzadeh is a Harvard-trained sub-specialist in nasal and facial plastic surgery and is recognized as a Top Doctor by the US News & World Report for rhinoplasty. He is one of the leading experts in the fields of primary, revision and ethnic rhinoplasty, and is the author of five bestselling books, including the definitive rhinoplasty textbook entitled "Master Techniques in Rhinoplasty." Dr. Azizzadeh is double-board certified in both facial plastic surgery and otolaryngology, which gives him a distinctive insight into both the aesthetics and function of the nose.
For additional information regarding primary or revision rhinoplasty, or to contact Dr. Azizzadeh, please call (310) 657-2203 or visit http://www.rhinoplastynet.com.