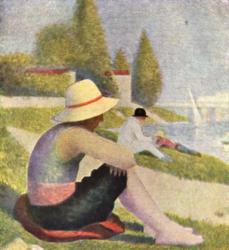 The most beautiful painter's drawings in existence.
New York, NY (PRWEB) May 23, 2013
Georges-Pierre Seurat (1859 – 1891) was a French Post-Impressionist painter and draftsman. His work altered the direction of modern art by initiating Neo-impressionism, and is one of the icons of 19th century painting. 
His drawings were once described as "the most beautiful painter's drawings in existence." Georges Seurat's mysterious and luminous works on paper played a crucial role in his career. Though Seurat is most often remembered as a Neo-Impressionist, the inventor of pointillism, his incomparable drawings are among his–and modernism's–greatest achievements. Working primarily with conté crayon on paper, Seurat explored the Parisian metropolis and its environs, abstracted figures, spaces, and structures, and dramatized the relationship between light and shadow, creating a distinct body of work that is a touchstone for the art of the twentieth century and today. 
Drawing played a crucial role in his art. He left over 500 known sheets (with about 270 dating from his maturity), an extraordinary number for such a short career (he died at the age of 31). Some of these drawings were preparations for his monumental canvases, haloing him to explore light, shadow, pose and relationships of color, but most are independent works. As Emile Verhaeren once said, he was a "technician, risk-taker and inventor."
The full version of Mighty Mack's Drawings: Georges Seurat App features over 90 drawings by the great Georges Seurat. 
This App is available for iPod Touch, iPhone and iPad. Optimized for iOS6, retina display and iPhone 5. It allows the users to share images via email, Twitter and Facebook, or save them to camera roll (with no watermarks). Share the artist bio via email. Select favorites. View the images one by one, or enjoy a slideshow.
Enjoy this fantastic visual gallery, share the images with friends, and learn about the artist's life.
Updates Include:

Optimized for iOS 6.1.3
Updated User Interface
New Splash Page
App Requirements:

iPad, iPod Touch or iPhone, with iOS 5.0 or higher
Wifi connection to download the app
An internet connection for sharing images via email, Twitter or FB (no internet connection required to view the App content)
Click here to see the complete collection of Aramis Artists Apps released by Mighty Mack.
--
Mighty Mack is a leading publisher of distinguished digital products for the consumer and professional markets. The Company leverages newly available digital tools to create, design, and share new ways of consuming information and experiencing the world around us. The company has released a variety of best-of-class Apps, including Advertising Today, Morpheus Dreams, Where2Boss?, Agora Briefcase, Film Today, among many others.
To learn more about Mighty Mack please visit their website at http://www.mightymack.com or email them to press(at)mightymack(dot)com.