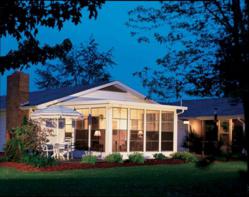 A room can be climate controlled, open to fresh air when you want, and powered for every convenience and day/night use.
MIAMI, FL (PRWEB) May 21, 2013
Venetian Builders has stepped up its message to homeowners in Palm Beach Gardens, President Chris Noe said: If you're looking for a sunroom or screen enclosure that will fit your home and neighborhood, Venetian's custom designs ensure that you'll get an aesthetically pleasing, fully functional space in less time and for less money than traditional construction would require.
Venetian serves all neighborhoods in Palm Beach Gardens as well as nearby communities, including Juno Beach, Juno Ridge, North Palm Beach, Lake Park and Lakeside Green.
"We'll build the ideal Palm Beach Gardens sunroom or patio cover because we'll design it to fit the homeowner's needs, budget, home and neighborhood," Noe said. Noe said custom design is the key to customer satisfaction.
"You can call it whatever you want: a sunroom, solarium, 4 seasons room or Florida room," Noe said. "What it will be is a bright, outdoor-welcoming space that provides the function and style that you require. It will be fully usable space. A room can be climate controlled, open to fresh air when you want, and powered for every convenience and day/night use. And our designers and craftsmen will make sure it blends with your existing architecture, inside and out."
Because they're aluminum framed, custom-fabricated Venetian solariums go up faster than an addition built by traditional methods would, Noe said, but they meet or surpass the tough Florida Building Code. "We have experts who work with municipal permitting officials and homeowners associations to save the homeowner time and money," Noe said. "And we engineer our structures to meet the strict regulations for even high-wind areas, such as along lakes, ponds, parks and golf courses."
Venetian's popularity is soaring, with residential sales up more than 150 percent since last year, Noe said. "Our presence in 41 Home Depot stores has increased our exposure to consumers, and the acceptance has been gratifying," Noe said. "We've added crews and quality control staff to ensure that customer satisfaction continues."
Home Depots with Venetian retail displays include two in Lake Worth and one in Boynton Beach.
The in-store displays show consumers 8 running feet of Venetian design and materials options. Homeowners who arrange for an at-home consultation, whether through Home Depot or directly through Venetian, see even more, life-sized, working examples of windows, doors, wall and roof panels, screening and other options right at the curb.
"We use no-surprises estimates that are written and detailed," Noe said. "Estimates are always free, whether for a Florida room, patio cover, including pergolas and lattice shading, or screen pool enclosure."
For more information, call 866-596-2427.