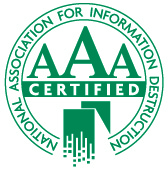 Phoenix, AZ (PRWEB) May 21, 2013
In Confidence P/L of North Melbourne, Australia has earned the National Association for Information Destruction (NAID) AAA Certification for demonstrating compliance with operational and security specifications.
"Organizations in Victoria are very fortunate to have a company that takes their responsibility to destroy discarded sensitive information so seriously," said NAID CEO Bob Johnson. "According to the Australian Privacy Law, organizations have a responsibility to make sure destruction services can adequately protect personal information. In Confidence P/L has made fulfilling that responsibility much easier through their certification achievement."
The NAID AAA Certification is awarded to companies that successfully complete an intense security audit conducted by an accredited security professional. To maintain the certification, In Confidence P/L will be subject to random audits as well as routine scheduled audits.
"We learned many years ago that frequent unannounced audits dramatically enhanced compliance," said Johnson. "They have to know an audit can come at any time, even if they recently had one."
In Confidence P/L joins Endeavour Foundation in Queensland, Green Team Shred-Safe in southern Australia, ShredLock Australia PTY Ltd in New South Wales and The Secure Document Destruction Company in New South Wales that have already earned NAID AAA Certification in Australia.
About In Confidence P/L: In Confidence, a wholly owned Australian company, was established in 1991 to service the secure shredding needs of small business, large organizations and government bodies. Our mission is simple: to provide our clients with a secure and efficient means of disposing documents, IT media and unwanted products, at a very competitive price.
About NAID: NAID is the non-profit trade association of the secure destruction industry, which currently represents more than 1,900 member locations globally. NAID's mission is to promote the proper destruction of discarded information through education and to encourage the outsourcing of destruction needs to qualified contractors, including those that are NAID certified.
The NAID AAA Certification Program is offered on a voluntary basis to all NAID member companies providing information destruction services. Through the program, NAID members may seek certification for mobile and/or plant-based operations in paper or printed media, micro media, computer hard drive destruction, and/or computer hard drive sanitization. The certification program establishes standards for a secure destruction process, including such areas as operational security, employee hiring and screening, the destruction process, responsible disposal and insurance. NAID members who are seeking certification are required to submit the Certification Application and associated fees. NAID certified members are subject to announced and unannounced audits to validate certification.