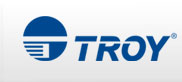 As criminals devise more sophisticated methods of committing check fraud, TROY intensifies our efforts to develop progressive fraud deterring solutions to address those methods.
Costa Mesa, CA (PRWEB) May 22, 2013
TROY Group, Inc., a worldwide leader and recognized expert in the printing and management of security documents, announces the development of TROY Ultraviolet ("UV") MICR Toner, an ultraviolet MICR security toner that brings advanced security for on-demand check printing as well as check authentication upon check presentment.
Using TROY UV MICR for on-demand check printing provides security and authentication features in one step. Images printed with TROY UV MICR Toner appear as standard black ink to the naked eye but become fluorescent blue under UV verification light. Authentication is achieved when the check with this secret image or field is presented for payment and held under a UV light, validating the check's legitimacy. This layer of security protects the payor and the payee from the financial and reputational damage of check fraud and forgery.
The introduction of TROY UV MICR Toner marks further innovation in high security printing solutions. According to Larry Landtiser, Executive Vice President and General Manager, TROY Group, Inc., TROY continually researches innovative ways to secure the check printing process. "As criminals devise more sophisticated methods of committing check fraud, TROY intensifies our efforts to develop progressive fraud deterring solutions to address those methods," he said. "TROY UV MICR Toner represents our commitment to proactively develop aggressive fraud deterrence measures to secure the payment process."
About Troy Group
TROY Group, Inc. ("TROY") is a worldwide leader of secure on-demand printing solutions. TROY solutions manage, secure and simplify end-to-end enterprise printing environments. TROY offers application software, security printing hardware and specialized consumables for securely printing checks, money orders, transcripts, prescriptions and other important documents. TROY solutions are used by small and medium size businesses as well as large enterprises and governmental organizations to manage fraud, operational risk and comply with government regulations related to protecting information privacy. As a Platinum Solutions Partner to HP, TROY is the only company in the world authorized by HP to enhance HP printers and consumables for use in secure printing workflows. Only TROY MICR and Security printers and HP compatible MICR Toner cartridges are certified by HP for quality and reliability. We sell and service our products to major corporations, banks, key government accounts and distributors worldwide. Visit TROY at http://www.troygroup.com