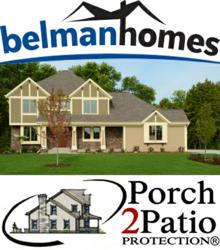 ...easily control and monitor key components in your home just about anywhere from your computer or smart phone.
(PRWEB) May 21, 2013
Waukesha custom home builders, Belman Homes is the first to offer Nexia home automation system as a standard feature in all Southeastern Wisconsin homes that they build.
"We were blown away by the functionality of the system. You can easily control and monitor key components in your home just about anywhere from your computer or smart phone," says David Belman, Belman Homes. "We feel it is the next big thing in housing."
Much like how navigation has changed how people interface with their vehicles, people are now able to interface with their homes. Belman Homes is excited to be able to offer this as a standard feature in their new homes in the Milwaukee area.
System features include an internet monitored front lock set, programmable thermostat, motion sensor, interior camera and lighting control. These components can all be controlled from the homeowner's computer or cell phone. From the homeowner's computer, options such as tracking energy usage, storing videos and notification settings can all be easily controlled.
Other bonuses of the new standard feature include:
-Alerts on temperature drops, front lock usage, motion sensor disruption.
-Live feed of a room inside the home at anytime.
-Control locks, thermostat, and lighting from anywhere.
-Save money and conserving energy by adjusting thermostat from anywhere.
-Program the system to fit personal needs. Allow workers or contractors to enter home, know when they are coming and going and program in unique codes that can expire.
"How great is it that you can get a text if your furnace shuts off, have a video sent if someone stops by your front door with a package or know exactly when your child comes home from school," says Belman. "We are in the information age, now you can keep up on what is going on with your home even if you are not there."
For more information on Belman Home's new standard features, visit http://www.belmanhomes.com.
About Belman Homes
Belman Homes, Waukesha County's premier custom home builders, has served the Waukesha and surrounding Milwaukee area communities as home builders, land developers, realtors and green home building experts for the last 31 years. They offer customers new homes for sale in Waukesha County, and every Belman home is handcrafted on-site using only the best suppliers and finest contractors. They aim to build only unique, comfortable and energy efficient homes their customers can be proud of.