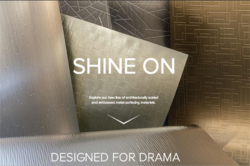 "There is a need for rarity, individualism and uniqueness in the materials that make up our interior environments, so we crafted materials that let designers create multisensory experiences and lasting impressions." Hans Mutke
CHICAGO, IL (PRWEB) May 21, 2013
As a design and interiors leader in the industry, it's only fitting that Lamin-Art, Inc. plays an even more pivotal role at this year's NeoCon, the largest design exposition and conference for commercial interiors in North America.
The architectural surfaces company will be a sponsor of the Materials Pavilion at this year's NeoCon, located on the eighth floor of the Merchandise Mart in Chicago from June 10-12. The Materials Pavilion, coordinated by Interiors & Sources Magazine, is scheduled to display hundreds of material samples with details on their origin, makeup and recommended applications.
The exhibit will focus on facilitating the often-daunting task of making sense of product features like durability, sustainability, economy, availability, design, and compatibility. Since Lamin-Art is a pioneer in all of these areas, the company chose to sponsor the event. Designers and architects are invited to view the latest surfacing materials—including our newest, captivating line of embossed metallic surfaces—at the Materials Pavilion and learn more about the company—and its innovative surfaces.
The educational exhibit also will be curated by design historian and materials specialist Grace Jeffers, and will include information gathered by Material Intelligence, an information resource on surfacing solutions for designers and fabricators.
At the show, we will be debuting our newest, most captivating collection of large-scale, embossed metallic surfaces called Metal-Art. Get a hands-on experience with our new line, as well as explore a sample of our premier collections of architectural surfaces.
About NeoCon
NeoCon is North America's largest exhibition of contract furnishings for the design and management of the built environment. NeoCon features the latest trends, products, and concepts in office, healthcare, hospitality, residential, institutional and government environments from more than 700 exhibitors. Nearly 40,000 trade professionals are expected to attend.
About Lamin-Art
Lamin-Art, Inc. is the North American design leader in architectural surfaces, including laminate, real wood veneer and metallic surfaces. Lamin-Art partners with interior designers, architects and fabricators to facilitate their visions by providing innovative products that add value and elegance to interiors. Lamin-Art develops durable, design-enhancing surfaces that are used such industries as hospitality, retail, healthcare, education and more. Visit http://www.laminart.com for samples or additional information.