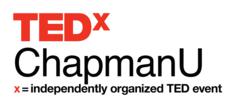 Orange, Calif. (PRWEB) May 21, 2013
The roster of speakers for Chapman University's second TEDx Conference -- returning to the university's Memorial Hall in Orange, Calif. on Tuesday, June 4, 2013, from 1 p.m. to 6 p.m. – has been announced.
The list of "Icons, Geniuses and Mavericks" (the theme of TEDxChapmanU) includes the reigning Miss District of Columbia and Miss America contestant Allyn Rose, who, like actress Angelina Jolie, underwent a preventive double mastectomy because of a genetic disorder that drastically increased her risk of breast cancer. Also on the roster are Kathy Thomson, president/COO of the Los Angeles Times and Tribune Publishing; Gwynne Shotwell, president/COO of SpaceX; Kristen Howerton, marriage and family therapist and popular "mom blogger;" USC writing guru and playwright Prince Gomolvilas; Reggie Gilyard, dean of the Argyros School of Business and Economics at Chapman University; Chapman quantum physicist Ali Nayeri; Chapman health communications expert Lisa Sparks; game designer Liz Fiacco and more.
Tickets are on sale now and going quickly – visit http://www.TedxChapmanU.com to purchase conference tickets or for more information about this year's conference.
"The overwhelming response to last year's inaugural TEDxChapmanU convinced us to return with another remarkable slate of presenters this year," said Mark Woodland, TEDxChapmanU organizer and vice president of strategic marketing and communications at the university. "Continuing the theme of 'Icons, Geniuses & Mavericks,' the 2013 TEDxChapmanU is destined to challenge and inspire you with thought-provoking talks from extraordinary men and women."
WHAT: TEDx ChapmanU http://www.tedxchapmanu.com
WHEN: Tuesday, June 4, 2013 -- 1 p.m. to 6 p.m.
WHERE: Memorial Hall, Chapman University
One University Drive, Orange, Calif.
TICKETS: Available for the general public at http://www.tedxchapmanu.com. "Like" TedxChapmanU on Facebook to access a 50% discount on your tickets.
DETAILS: Speakers scheduled to appear (listed here in alphabetical order) are:

Liz Fiacco, entrepreneur, digital media game designer, founder of Fallstreak Studio—and a Chapman alumna. She was recently recognized by OC Metro in its "Twenty Women to Watch" issue.
Reggie Gilyard, dean of the Argyos School of Business and Economics, Chapman University
Michael Goldsby, co-founder and CTO, Jointly Health, an innovative software company providing an advanced analytics platform for the healthcare industry
Prince Gomolvilas, playwright and associate director of the Master of Professional Writing Program, University of Southern California
Ken Hertz, senior partner, Hertz Lichtenstein & Young LLP (entertainment law) - a unique deal-making lawyer who has helped top talent and corporate brand clients successfully navigate the entertainment industry
Kristen Howerton, a marriage and family therapist and author of the popular blog Rage Against the Minivan, where she explores issues of identity, race, adoption, parenting and motherhood.
Ali Nayeri, assistant professor, Center for Quantum Studies, Chapman University; listed among the Top 100 Iranian-American scientists
Mark Pampanin, Chapman University student; a political science major from Massachusetts, and a top prize winner at the recent 2013 Pi Kappa Delta National Tournament in St. Louis. (PKD is the public speaking and debate honor society.)
Allyn Rose, Miss District of Columbia 2012 and Miss America competitor earlier this year, who chose a double mastectomy as a preventive measure after breast cancer claimed the lives of three women in her family, including her mother and grandmother.
Gwynne Shotwell, president and COO, SpaceX, the private space exploration company founded by Elon Musk. Shotwell is listed by Forbes among its "World's Most Powerful Women/Women to Watch."
Lisa Sparks, director of the Master of Science graduate program in health and strategic communications, Chapman University; a highly regarded teacher-scholar and the author and editor of more than 10 books in the areas of communication, health and aging.
Kathy Thomson, president/COO of the Los Angeles Times Media Group and recently named COO of Tribune Publishing. She is responsible for all editorial, advertising sales, business services, marketing and operational functions at the Times.
WHAT IS TEDx?
TED is a nonprofit organization devoted to "Ideas Worth Spreading." Started as a four-day conference in California 25 years ago, TED has grown to support those world-changing ideas with multiple initiatives. The annual TED Conference invites the world's leading thinkers and doers to speak for 18 minutes. Their talks are then made available, free, at TED.com.
In the spirit of ideas worth spreading, TEDx is a program of local, self-organized events that bring people together to share a TED-like experience. At a TEDx event, TEDTalks video and live speakers combine to spark deep discussion and connection in a small group. These local, self-organized events are branded TEDx, where x = independently organized TED event. The TED Conference provides general guidance for the TEDx program, but individual TEDx events are self-organized.
MEDIA:
Print and broadcast media are welcome to attend and cover. For parking and arrival information, please call our office in advance and we will make sure you are on the press list and receive all information.