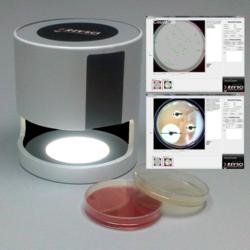 Most customers purchase the IncuCount to save hours of time and money spent by counting colonies manually.
Minneapolis, MN (PRWEB) May 21, 2013
Revolutionary Science, the manufacturer of the IncuCount, a patented automatic colony counter, announced today that they have expanded their colony counter product line to include four products, the IncuCount, IntelliCount, InCount and ImpressCount. These affordable colony counters that range in price and sophistication are especially useful in food microbiology and pharmaceutical manufacturing.
The previously released IncuCount has been given an updated look. A bright white enclosure with jet black accents represent the updated style of the expanded product line. The lighting has also been improved. The top lighting has been redesigned and offers superb illumination of yeast and mold samples. The IncuCount, IntelliCount and InCount are the first automatic colony counters on the market with lighting that is adjustable with potentiometers. "The bottom and top lights are controlled by user-friendly dimmer switches," states Isaac Erickson of Revolutionary Science. "This is far superior when achieving the best view of the sample. On/off light switches do not allow for best viewing situations."
The IncuCount can be hooked up to a computer or Android compatible tablet computer to automatically count colonies or automatically measure antibiotic reactions. Most customers purchase the IncuCount to save hours of time and money spent by counting colonies manually. A special unique feature, however, is the ability to monitor the growth or reactions on a petri plate inside an incubated environment. "The entire device can be incubated along with the samples," states Eric Kaari of Revolutionary Science as he explains the patented feature. "Using sequential imaging, the software will monitor the entire sample for you – even email images and results."
The IncuCount offers the most extensive functionality in Revolutionary Science's line of colony counters. The IntelliCount forgoes some of the more advanced features, while providing users with a more economic option. The IntelliCount is capable of automatically counting colonies, as small as 0.4mm (opposed to the 0.2mm IncuCount resolution). It's practical for many applications, but some high volume labs require the efficiency only an IncuCount can provide.
Revolutionary Science's colony counter line also includes devices for labs on a budget. The InCount offers the same lighting and digital image storing ability that its sister models offer, yet it does not automatically count colonies. The ImpressCount is a manual colony counter.
About Revolutionary Science
In 1999, Revolutionary Science was founded after the birth of the company's first microcentrifuge. Years later, Revolutionary Science designs and manufactures incubators, centrifuges, autoclaves, automated cell and colony counters and water baths.
Registered with the FDA and ISO, Revolutionary Science is a Minnesota manufacturer dedicated to the manufacturing of precision life science and sterilization equipment.