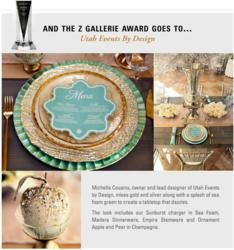 Gardena, CA (PRWEB) May 20, 2013
Z Gallerie, a family-owned retailer of stylish home furnishings, art and accessories, announced today the first winner of the Z Gallerie Design Award. Michelle Cousins of Utah Events by Design received the company's award for her inspired use of Z Gallerie products in her work.
The Designer Trade Program Award recognizes excellence in interior decorating that expresses Z Gallerie's sense of style and sophistication. Award recipients are chosen based on overall project creativity, aesthetic and impact.
"I could not have been more shocked when I received the news," said Cousins. "I only became a member of the program in December and I thought for sure an interior designer or stylist would win, not an event planner!"
Cousins' design was created for an inspirational photo shoot showcasing innovative options for winter weddings. The photographs included mixed metallic hues with a splash of mint for a modern and elegant feel.
Cousins says she loves Z Gallerie because the company offers many items and colors that are either on trend or a bit ahead of the curve. "I watch European trends because the wedding industry here tends to follow by about a year or two behind them," said Cousins. "Z Gallerie always seems to have amazing products that work with so many different types of events in such a beautiful selection of colors."
The Designer Trade Program was created to provide designers with cost effective solutions utilizing Z Gallerie merchandise. With three levels of discounts --gold, platinum and black-- these special to-the-trade discounts give program members increased options for completing their clients' home decorating projects within budget. The company's twice-yearly lookbook, originally created for members of the media, also has become one of the favorite perks of being a Designer Trade Program member.
About Z Gallerie
Founded by siblings Joe Zeiden, Carole Malfatti and Mike Zeiden in 1979, Z Gallerie began as a small poster shop in Sherman Oaks, CA. They operated the store during the day and framed posters at night in their parents' garage. Thirty-three years later, their stores now carry a full assortment of exclusive fashion forward home furnishings, including art and accessories - all at affordable prices. With 56 locations across the United States and an online presence at ZGallerie.com, Z Gallerie, still lead by Joe, Carole and Mike, continues to inspire all those who are excited by interior design. The company is headquartered in Los Angeles and has its buying office in Berkeley.
###