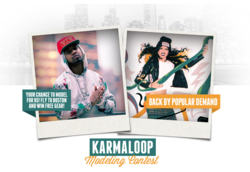 We're looking for one guy and one gal to be the new faces of Karmaloop
Boston, MA (PRWEB) May 21, 2013
Karmaloop.com, the leading online retailer of urban fashion and streetwear, announced the 2013 "Karmaloop Modeling Contest" today to find fresh faces to model top streetwear labels on the Karmaloop website and Karmaloop social media pages.
"We're looking for one guy and one gal to be the new faces of Karmaloop," said Greg Selkoe, Karmaloop's founder and president. "We want unique faces that represent the Verge Culture - those young men and women who have grown up alongside the Internet -- and who can rock looks from hip hop and streetwear brands like Crooks and Castles or WeSC to skate brands like SUPRA and Diamond Supply Co. Winners each get an official photo shoot and their pics will end up all over Karmaloop.com as well as our social sites."
Winners will also receive a free trip to Karmaloop headquarters in Boston and $1000 in gift codes for purchases on Karmaloop.com.
Participants can enter the contest via Instagram/Twitter by uploading a picture with hashtag #KLModelContest. Entrants must be 18 or older and live in the United States, Canada, Bermuda, or the Caribbean to enter the contest.
"After the pics are posted, friends and fans can vote for their favorite models on Facebook.com/Karmaloop," said Selkoe. "At the end of the contest, the models with the most votes (and with Karmaloop's approval) win the contest."
For more information, visit Facebook.com/Karmaloop.
About Karmaloop.com
Karmaloop.com is the leading online retailer for global urban fashion and streetwear, with more than $130 million in annual sales. Retailing every major streetwear brand -- from Obey, BLVCK SCVLE and LRG to Jeffrey Campbell, Free People and UNIF -- Karmaloop receives more than 4.5 million unique visitors from 40 countries each month, and retails more than 500 brands designed for the "Verge Culture" -- a multicultural demographic that is 18 to 34 years-old and often referred to as the first generation that grew up with the Internet. Founded in 2000, the Karmaloop family of websites today includes the internet television station KarmaloopTV, the women's fashion site MissKL, the menswear boutique Boylston Trading Company, the flash-sale site PLNDR, the online skateboard retailer Brick Harbor, and the independent marketplace Kazbah.