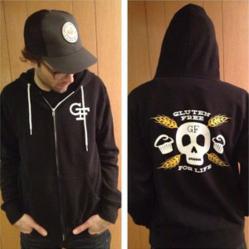 "Wearing a hoodie with our skull and crosswheat logo and our slogan 'gluten-free for life' makes me feel empowered, and dare I say it – cool." said Erica Dermer Founder, Celiac and the Beast
Phoenix, AZ (PRWEB) May 21, 2013
Most food allergy bloggers are busy during the month of May, celebrating Celiac Disease Awareness Month. They are trying to raise awareness of the autoimmune disease and its multi-system symptoms (numbering in the hundreds), urging readers to get tested. However, one blogger is striving to make this awareness as fashion-forward as possible, highlighting her line of gluten-free friendly t-shirts, hooded sweatshirts, and tank tops during the month of May.
The unique designs are courtesy of the team of Erica Dermer and Matt Saling – better known as Celiac and the Beast. While the designs were originally just a Christmas gift from Matt, Erica saw a future for the apparel beyond her own wardrobe and has now created an entire line of apparel for the gluten-free community.
"Wearing a hoodie with our skull and crosswheat logo and our slogan 'gluten-free for life' makes me feel empowered, and dare I say it – cool. I didn't think I could feel that way about being gluten-free. I have started so many conversations just wearing this shirt. I get to tell people about celiac disease and urge people to get tested if they show symptoms. I want to make people proud of the new life that they lead without wheat – even though we all know it's difficult," states Erica.
The Celiac and the Beast website is primarily about gluten-free product and restaurant reviews, but it also stresses advocacy in the community. They believe that the gluten-free lifestyle isn't a fad – and no one should take it as such. The apparel is not only about reinforcing this advocacy, but it's giving the celiac or gluten-intolerant person a chance to show off their new lifestyle and spur conversation.
Celiac and the Beast apparel is available online at http://celiacandthebeast.com/gluten-free-shirts/ and includes a full range of apparel for adults as well as children. T-shirt sizes range from small to XXXL, are available in multiple colors and designs, and are $20 shipped. Hooded sweatshirts are available for $60 with shipping included in sizes from XS to XXXL in multiple colors. Children's shirts range in sizes from kids size XS to kids large, and retail for $18 shipped. Tank tops are available for a limited run this summer.
For media inquires or to learn more about Celiac and the Beast, contact
Erica Dermer, founder, at celiacandthebeast(at)gmail(dot)com.
About Celiac and the Beast
Celiac and the Beast was inspired by Erica's favorite Disney movie, its main character, and learning to love the "beast" that is celiac disease. After her diagnosis of celiac and other related issues, she started the website as a hobby and as a way to talk about new products that she found. After early success in readership, she has relied in her past work in marketing, branding, and writing to teach others about celiac disease and to help others live the gluten-free lifestyle.