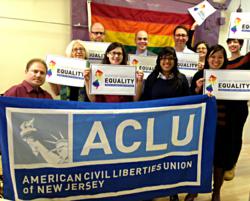 Marriage equality is within our sights.
Tampa, FL (PRWEB) May 21, 2013
EnGAYgedWeddings.com is proud to join the ACLU of New Jersey.
New Jersey is the odd one out, and not because it has the most reality shows. It's because Rhode Island, Delaware and Minnesota have signed marriage equality into law, while same-sex couples in New Jersey are still waiting for their legislators to recognize their freedom to marry.
Bring the freedom to marry to New Jersey – get trained to lobby for marriage equality.
Learn how to convince legislators to override the governor's veto of the 2012 marriage equality bill. Rally together to push for an override, starting this month in Princeton. Can ACLU New Jersey count on you to attend?
The ACLU-NJ's Issue Forum and Lobby Training - in Princeton
With Special Guest, Congressman Rush Holt
Tuesday, May 28, from 7 - 9 p.m.
Unitarian Universalist Congregation of Princeton
50 Cherry Hill Road, Princeton, NJ
Visit the ACLU-NJ Marriage Equality page: http://www.aclu-nj.org/marriage.