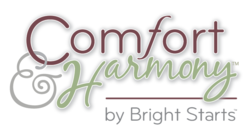 (PRWEB) May 21, 2013
The team at Comfort &Harmony™, a leader in nurturing baby products offer tips to help a new mom pick a nursing pillow.
Nursing pillows are designed for the comfort and convenience of both mom and baby.
In a nursing pillow, important things to look for include shape, comfort, fabric and added features. Designers at Comfort & Harmony, kept this list in mind when creating the mombo™ nursing pillow.
SHAPE: The nursing pillow needs to fit a mom's body and feel comfortable. Some pillows wrap around the entire body or fit around the waist. The mombo has a unique shape and a two-sided design called Firm2Soft. Each side of the pillow offers an infant a unique experience. The firm side provides secure support for both mom and baby, keeping the infant at the right elevation for easier nursing. The soft side is designed for baby tummy time, lounging, and sitting up.
COMFORT: A good nursing pillow needs to be firm enough for optimal functionality, but soft enough to be comfortable. For baby, the mombo pillow works for feeding, rest time and play time. For mom, the pillow helps relieve stress on the back, neck and shoulders while she is feeding baby.
FABRIC: The availability of a diverse assortment of slipcovers will allow the pillow to be color-coordinated and customized. The stylish slipcovers for the mombo range from solids and patterns. The mombo even has a slipcover available in Taggies™ fashion.
EXTRAS: The mombo is the only nursing pillow on the market that has a vibration feature to give baby the ultimate soothing experience.
Mombo nursing pillows can be bought at Babies "R" Us, a carrier of Kids II brands since 1992. Toys R Us was also the exclusive launch partner for the introduction of the mombo nursing pillow in 2012.
Beyond pillows, Comfort & Harmony offers a number of other indispensable items to new parents, including bouncers, swings, rockers, seat covers and more.
ABOUT COMFORT AND HARMONY™
The Comfort and Harmony brand is designed to exceed baby's comfort needs while appealing to mom's sense of style. Thoughtfully designed to create a supremely cozy environment for baby in sweet and heartwarming fashions that mom adores, the brand offers nursing pillows, swings, bouncers, shopping cart covers and rockers. Every Comfort & Harmony product incorporates nurturing features, such as ergonomic designs and plush fabrics that pamper mom and baby where it's needed most.
Headquartered in Atlanta, Georgia, Comfort & Harmony™ is one of the seven brands under Kids II, Inc., manufacturer, designer and marketer of toys and baby gear. Visit http://www.kidsii.com.
ABOUT KIDS II, INC.
Kids II has been inventing and reinventing baby and infant toys and gear for more than 40 years and has quickly become one of the world's fastest growing baby product companies. Headquartered in Atlanta, Kids II spans globally with operations in six continents serving customers in more than 70 countries. Driven by innovation, design and a comprehensive brand portfolio, Kids II is the next generation leader of infant and toddler products.
Kids II designs, markets and distributes more than 400 unique infant and toddler products, selling more than 22.8 million items per year. On average, it launches 125 new products a year. Under its flagship brands, Kids II has produced more than 100 award-winning products.
The brand portfolio strength runs deep under the Kids II umbrella, which includes its signature brands Bright Starts™, InGenuity™ and Comfort & Harmony™, as well as licenses to design and manufacture products for Disney™, Baby Einstein™, Oball™ and Taggies™.
Kids II's international affiliate operations are located in Australia, Canada, Europe, China, Hong Kong, Japan, Mexico and South Africa. Visit http://www.kidsii.com