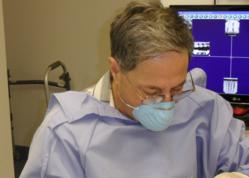 Fountain Valley, CA (PRWEB) May 20, 2013
Dr. Robert Mokbel is one of the select few dental professionals certified and trained to use the Laser Assisted New Attachment Procedure, a laser gum surgery designed to treat patients with gum disease. LANAP may help many Fountain Valley residents who have already lost teeth due to gum disease restore the jawbone support necessary to support dental implants.
Gum disease begins with the buildup of plaque and tartar in the mouth. Daily oral hygiene activities typically remove enough naturally occurring plaque so it doesn't evolve into tartar, a hardened version of plaque that usually requires a dental professional for removal. Plaque and tarter contain bacteria that can inflame the gums and cause bleeding.
As gum disease progresses this bacterium is stored in "pockets" that form where the diseased gums have pulled away from the teeth. If left untreated the decay in connective tissues causes teeth to loosen and ultimately fall out. Patients who lose teeth commonly receive dentures or dental implants as replacements. Laser gum surgery restores the connective tissue and eliminates pockets by targeting the damaged tissue and bacteria. This process is unique in that it both eliminates damaged tissue and encourages growth in healthy tissue. During the procedure the laser stimulates the jawbone to encourage natural regeneration; this helps loose teeth regain their connective structure.
Reduced bone density due to gum disease may require grafting of bone prior to implant surgery, which is often painful and results in a significant recovery period. Unlike these treatments, LANAP laser gum surgery involves no cutting and little to no pain; most patients return to their daily activities within a day. Laser surgery represents a significant advancement in medical technology, offering patients an innovative treatment for various stages of gum disease. Additional information may be found at http://www.scdentalimplants.com.
About the Doctor
Robert Mokbel, DDS is a prosthodontist offering personalized laser and implant dentistry for gum disease patients in Fountain Valley, CA for over 28 years. Dr. Mokbel received his Prosthodontic degree in Paris, France where he did four years of research in prosthetics and in occlusion and attended periodontal courses. He then arrived at USC where he taught prosthetics since 1983. He is part of one percent of dental professionals providing the most recent FDA cleared laser procedure for gum disease treatment. To learn more about Robert Mokbel, DDS and his services visit his website at http://www.scdentalimplants.com and call (714) 905-5335.