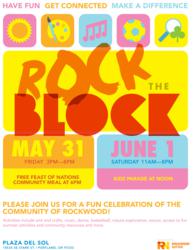 Portland, Oregon (PRWEB) May 22, 2013
On Friday, May 31 and Saturday, June 1, 2013 ROCK THE BLOCK will kick off a fun, safe summer for Rockwood's youth and families.
Rock the Block will feature a Feast of Nations Friday night - a free community dinner - with food from Africa, Asia, Latin America and Russia to celebrate the diverse Rockwood community. There will be a variety of entertainment and activities for children and youth of all ages. The Gresham and Portland Fire Bureaus will have fire trucks on site for children to explore.
Saturday will start with a children's parade. Arts and sports activities will be available all day, parents will be able to sign their children up for free or low-cost summer activities and Reynolds School district will be doing kindergarten sign up for fall. For parents, Southeast Works will provide employment resources and Human Solutions and Home Forward will provide housing information.
A consortium of community groups, nonprofit organizations, government agencies and concerned citizens has come together to bring much needed youth programs and services to the Rockwood neighborhood of Gresham. Rockwood has the highest incidence of gang violence in the Portland Metro area. The Rockwood Pathways Project will address youth and family needs with the goals of reducing youth violence and improving community health and safety.
Organizations participating in Rock the Block include Pathfinders of Oregon, Southeast Works, Friends of the Children, YWCA, Boys and Girls Club, the Agape Church of Christ, STRYVE, Reynolds School District, POIC and Rosemary Anderson High School, Gresham Police and Fire Bureaus, Portland Fire Bureau, Human Solutions and the Maurice Lucas Foundation. Restaurants Taco Rico, Chez Dodo, Russian International Foods and Joy Teriyaki will supply food for the Feast of Nations on Friday evening. SRM Studio developed marketing and outreach materials.
ROCK THE BLOCK will be taking place in the Plaza del Sol between 185th and 187th off Burnside in Gresham. It runs from 3:00 to 8:00 p.m. on Friday, May 31. The Feast of Nations will start at 6:00. On Saturday, June 1, it runs from 11:00 a.m. to 8:00 p.m. with the Children's Parade at noon.
About Pathfinders of Oregon
Pathfinders of Oregon is a 501(c) 3 organization whose mission is to break the cycle of criminality. Pathfinders has taught programs within the Oregon Department of Corrections for 20 years. In the community it offers programs to families impacted by the criminal justice system through its Center for Family Success in Rockwood, Center for Family Success and operates an alternative education program for pregnant and parenting teens at its Pathfinder Academy.