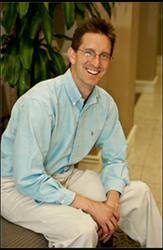 Charlotte, NC (PRWEB) May 20, 2013
This May Dr. Charles Payet is using the FDA-cleared laser gum surgery to treat gum disease, which studies have found may increase the risk of stroke.
The Laser Assisted New Attachment Procedure uses the Periolase MVP-7, which is the only laser that the FDA has cleared for this procedure. The laser accurately removes bacteria and gum disease.
Studies have indicated that good oral hygiene may be beneficial for the entire body, as periodontal disease has been linked to health issues including stroke. Scientists have not determined an exact mechanism, though theories involve bacteria from the mouth entering the bloodstream through the gums. Once in the bloodstream, bacteria may cause inflammation or attach to blockages that are already starting to form in the arteries. When swelling or a clot causes an artery to become completely obstructed, a stroke occurs. Therefore, procedures that improve oral health, such as LANAP, may help reduce the risk of stroke.
Dr. Payet begins the LANAP procedure by taking a measurement of the depth of the patient's gum pocket. After the laser has removed the bacteria and disease, Dr. Payet uses an ultrasonic tool to take plaque off the surface of the tooth. Then Dr. Payet uses the laser to sterilize the pocket and create a clot at the bottom, sealing other bacteria out of the pocket while it heals.
This laser gum surgery doesn't require the removal of healthy tissue, so patients won't see a reduction of the gum line. LANAP also eliminates the need for cutting or stitches, which lessens the pain of the procedure and the patient's recovery time. As an additional benefit, the Periolase MVP-7 laser stimulates the bone, which increases regeneration of the bone around the root of the tooth, and improves patients' chances of keeping their teeth.
For more information about the connection between stroke and gum disease, and the laser treatment options available in Charlotte, NC, visit http://www.thecharlottedentist.com.
About the Doctor
Dr. Charles Payet is a general dentist offering personalized dental care for Charlotte, NC gum disease patients since 1998. Dr. Payet completed his undergraduate degree and attended dental school at UNC-Chapel Hill School of Dentistry. He is part of one percent of dental professionals providing the most recent FDA cleared laser procedure for gum disease treatment. To learn more about Dr. Charles Payet and his dental services visit his website at http://www.thecharlottedentist.com and call (980) 272-4870.