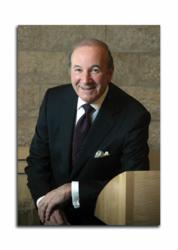 Arlington, VA (PRWEB) May 22, 2013
Over the past 55 years, Morton "Morty" Zetlin's effect on the Arlington business community has been both impressive and substantial.
Upon the completion of his Army service (and initial exposure to Mercedes-Benz automobiles) in Germany, Zetlin returned home to Washington, DC after the Korean War. In 1957, Zetlin joined American Service Center (ASC) as a used car salesman while attending the School of Foreign Service at Georgetown University.
After his immediate success in the used car department, Zetlin was promoted to General Manager of Mercedes-Benz in 1972. Three years later, in 1975, he was appointed General Partner of ASC and is currently the Dealer Principal and Chairman of the Board. Zetlin's impact has spread far beyond the metropolitan Washington area and has made Mercedes-Benz of Arlington a nationally-recognized dealer.
This year, Mercedes-Benz of Arlington, formerly known as ASC, is celebrating its seventy-sixth year in business and fifty-sixth year as a Mercedes-Benz dealer. Zetlin credits inaugural General Manager Saul Brooks for the dealer's success of today, saying "…He had a wonderful motto, 'Take care of the customer, that's the main thing.'"
Zetlin is one of three 2013 business leaders to be inducted into the Arlington Business Hall of Fame at the Arlington Best Business Awards held on Tuesday, May 21 at the Sheraton Pentagon City Hotel.
About Mercedes-Benz USA
Mercedes-Benz USA (MBUSA), headquartered in Montvale, New Jersey, is responsible for the distribution, marketing and customer service for all Mercedes-Benz products in the United States. MBUSA offers drivers the most diverse line-up in the luxury segment with 12 model lines ranging from the sporty C-Class to the flagship S-Class sedans and the SLS AMG® GT.
MBUSA is also responsible for the distribution, marketing and customer service of Mercedes-Benz Sprinter Vans, and smart products in the U.S. More information on MBUSA and its products can be found at http://www.mbusa.com, http://www.mbsprinterusa.com and http://www.smartusa.com.
For full bios and photos visit the MBUSA Media Site, http://www.media.mbusa.com.