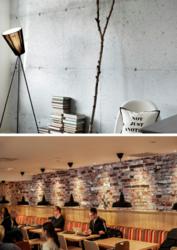 New York, NY (PRWEB) May 21, 2013
Resource Furniture is excited to announce the unveiling of ConcreteWall, an entirely unique new photographic wall covering line designed and manufactured in Norway. Featuring high resolution images of authentic concrete, brick, wood, cinder block and even graffiti, each piece in the collection is custom designed to produce a lifelike effect that is ideal for creating individually tailored interior spaces.
ConcreteWall is the brainchild of photographer Tom Haga who uses his skills and ingenuity to capture genuine concrete and brick walls in locations across Norway. The photos are then customized and fine-tuned, ensuring each detail is unique. Each order is measured to the precise size of installation, creating zero waste. This way, the wall essentially becomes one large photograph without any repeats and produces an architectural trompe l'oeil. ConcreteWall creates a very realistic effect for entire rooms or accent walls, the choice is yours! In fact, the walls can be customized to appear lighter, darker or even tinted to a desired color.
"Adding ConcreteWall to our line of unique transforming products fits nicely with our tradition of offering completely original designs," said Ron Barth, President of Resource Furniture. "Now you can live in your exposed brick fantasy loft without having to move. Once again, we're reinventing your space."
The high quality vinyl wall coverings are long lasting, providing both excellent UV-protection and scratch resistance. ConcreteWall uses a non-woven backing to insure that removal is a breeze, ideal for renters or tenants that may need to remove the coverings at a later date.
The designs are great for private homes, retail stores, offices or restaurants aiming to achieve a particular mood. Not only do authentic wall coverings make for an excellent conversation piece, but the feeling of exposed walls is one element that adds immediate character to any space. The ConcreteWall collection is now available exclusively through Resource Furniture.
For more photos, visit: http://www.resourcefurniture.com/pressroom.