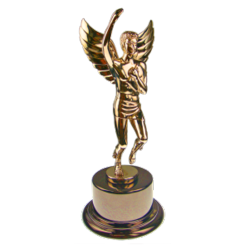 Relevant consumer insights are at the heart of all successful campaigns
San Francisco, CA (PRWEB) May 21, 2013
San Francisco-based multicultural advertising agency Améredia was honored with a 2013 Hermes Creative Gold Award from the Association of Marketing and Communication Professionals. The award acknowledges Améredia's creativity and innovation in Web Element/Web Design for Tea India®, a consumer tea brand of Harris Freeman & Co®. The entry, titled "Experience Tea India", showcased the re-branding of the popular North American beverage brand.
In conjunction with the re-branding, Améredia managed the launch of Tea India's instant tea product, Chai MomentsTM. The launch strategy included an integrated marketing campaign across digital and traditional channels throughout diverse consumer segments in both the US and Canadian markets.
"Relevant consumer insights are at the heart of all successful campaigns," said Pawan J Mehra, founder and principal at Ameredia. "We understand diverse consumers and our design and messaging connected well with the targeted audience generating desired awareness and traffic for the client".
The Tea India website (http://www.teaindia.com) was developed through consumer insights including use of aesthetics and messaging that would engage targeted groups. The agency collaborated with the client team, the mainstream agency and a digital partner to develop a culturally appealing site that strongly resonates with consumers. Design elements were made consistent with the mainstream branding launched in the United Kingdom, a key market for tea consumption.
Améredia's expertise in multicultural advertising, marketing and communications also earned a 2013 Hermes Creative Awards Honorable Mention. The agency was recognized for their outstanding 2012 holiday creative work for long time client, Comcast.
Hermes Creative Awards is an international competition for creative professionals involved in the concept, writing and design of traditional materials, programs, and emerging technologies. The 2013 Hermes Awards attracted 5600 global entries from leading corporate marketing and communication departments, advertising agencies, PR firms, graphic design shops, production companies, and other digital creators.
About Améredia
Améredia Inc. (http://www.ameredia.com) is a full-service multicultural advertising, marketing and communications firm specializing in building brands within U.S.-based diverse communities. The agency enables private, government and non-profit organizations to connect with Hispanics, Asians, Europeans, Middle Easterners, Pacific Islanders, Africans and other diverse cultural groups nationwide. Conceptualizing culturally engaging campaigns across print, TV, radio, online, outdoors, events, grassroots and social media platforms in over 20 leading languages, Améredia has positioned itself as one of the fastest-growing diverse market agencies nationwide.