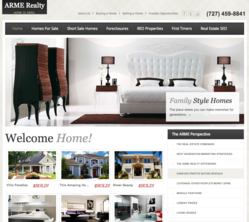 Tampa, FL (PRWEB) May 21, 2013
Brokers all over the country have been salivating over the release of a demonstration of the ARME Realty.com real estate SEO web development toolkit, states ARME Realty.com. This demonstration finally provides a hands on of their high powered web development platform and provides unique insight on just how this technology is able to produce so many leads through its unique URL construction kit format.
ARME Realty.com has created a proprietary web development system that allows real estate SEO professionals to create a massive web presence targeting the exact property types in the exact neighborhoods and zip codes brokers want to do business through the development of multiple URL's, created by the system on the fly. It is now possible to cover every possible keyword combination for any given area and create a single page complete with unique, relevant information for each of these keywords. The best part about this, according to ARME Realty.com, is the whole approach for the broker is hands off. An ARME Realty agent will handle all of the work.
"When a broker visits ARME Realty.com and clicks on the 'Real Estate SEO' tab at the top right hand side of the page, the broker will be directed to the page where the Youtube video of the demonstration is being shown. This will give the broker web developer unique insight on just how our program works for the development of a massive lead generation magnet," states Simon Landers, spokesperson.
For more information on this program and to request a direct link to the demonstration call (727) 459-8841 or visit the ARMERealty.com website today.