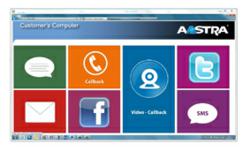 Solidus eCare ... enables contact center staff to engage in the most effective way with customers, whether they wish to communicate using social media or other channels.
Dallas, TX (PRWEB) May 22, 2013
Aastra, a leading company at the forefront of the enterprise communication market, has released a new version of its fully integrated contact center solution, Solidus eCare™, providing enhanced capabilities for outbound campaigns and a stronger focus on being more responsive to customers.
Solidus eCare version 8.2 includes a range of new features which empower companies to do more and help agents to work more efficiently.
Reducing call drop out rates and generating more sales leads -
Replacing hold time with call-backs increases customer satisfaction significantly and offers prospective customers a way to request a call at a convenient time, ensuring that no important calls are missed.
With this latest release, callers held in a queue can be given the option of a callback. Solidus eCare will automatically dial customers as soon as an agent becomes available while maintaining their places in the queue. True to Solidus eCare's multimedia capabilities, a callback can now also be requested via text message (SMS) or from a web page, ensuring that potential buyers can easily get the additional information they require.
A more profitable and productive contact center -
To make the most of existing resources, businesses can leverage their contact center for outbound proactive campaigns such as lead generation, customer calls to support new business or as part of customer information initiatives.
With the new Progresive Campaigns, Solidus eCare can automatically call customers. Once a customer is connected, Solidus eCare can be set to ensure that an agent is available to serve the call. This saves a considerable amount of time for agents, making the most of their available time to better serve existing and potential customers and enabling the organization to generate extra sales with the same resources.
The Aastra BluStar™ Agent for a more collaborative contact center -
Solidus eCare 8.2 enriches its client with more Unified Communications features available with the Aastra BluStar™ Agent.
BluStar Agent includes all the features of a contact center agent interface – such as real time statistics and efficient call management – but also expands the boundaries of the contact center. For example, other members of staff with the BluStar Agent can be brought in to deal with inquiries when there are particularly high call volumes or calls can be routed to specific individuals when expert knowledge is required. Alternatively, if an agent needs to ask another team member a question in order to answer a customer inquiry, they can do so discretely using Instant Messaging (IM), providing a fast and accurate response to their customers.
With its Browser tabs, the BluStar Agent offers a single interface when integrating Solidus eCare with other business applications or channels: for example, a dedicated tab for Twitter, Facebook or LinkedIn if they wish to communicate with customers via social media channels.
Bo Stenlund, Head of R&D for Solidus eCare from Aastra comments, "The industry is seeing a sharp rise in the number of organizations moving their contact centers back in-house – and this trend looks set to continue. The most effective infrastructure for such organizations is an all-in-one integrated contact center from a single supplier – and Aastra's Solidus eCare has been developed with a thorough understanding of an organization's requirements in terms of infrastructure and applications."
"Used by over 2,500 organizations worldwide, Solidus eCare provides so much more than a typical agent desktop with management and reporting applications. It enables contact center staff to engage in the most effective way with customers, whether they wish to communicate using social media or other channels. It helps organizations to deal with calls quickly and efficiently, providing an easy to use, flexible interaction hub for their customers, and a smart and scalable investment for the future."
Hans Höglund from Telge AB, a major utilities organization in Stockholm, Sweden, has trialled the latest version of Solidus eCare. Hans comments, "Customer service is a key priority for us and we have used Solidus eCare for many years to help us to provide a responsive service to our energy and housing customers. We welcome the latest enhancements - we are starting to adopt BluStar Agent at Telge and are already experiencing increased efficiencies."
Other additions to Solidus eCare 8.2 are:

Support for VoiceXML in Script Manager – a standard XML format for specifying interactive voice dialogues between a human and a computer
Call recording on demand for BluStar Agents
Solidus eCare is a fully integrated contact solution with a low Total Cost of Ownership. Available globally, Solidus eCare provides all contact center needs such as multimedia support, IP enabled, mobility for agents, virtual contact center for distributed sites and also multi-tenanting. Solidus eCare can scale for businesses with up to 12,000 agents and handle 400,000 calls per hour.
For further information, visit http://www.aastra.com/solidus-ecare-contact-center.htm
– ENDS –
About Aastra USA
Aastra USA Inc. is the US business unit of Aastra Technologies Limited, a company at the forefront of the enterprise communication market. Headquartered in Concord, Ontario, Canada, Aastra develops and delivers innovative communications products and applications for businesses. Aastra's operations are truly global with more than 50 million installed lines around the world and a direct and indirect presence in more than 100 countries. Aastra is entirely dedicated to enterprise communications and offers IP telephony and Unified Communications solutions individually tailored to satisfy its customers' requirements. These range from feature-rich call managers for small and medium businesses and highly scalable ones for large enterprises, associated UC applications, integrated mobility, multimedia call center solutions and high definition video communications to a wide selection of desk phones and cordless terminals. With a strong focus on open standards, Aastra enables enterprises to communicate and collaborate more efficiently. For additional information on Aastra, visit our website at http://www.aastrausa.com.