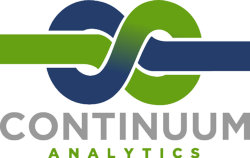 Austin. TX (PRWEB) May 21, 2013
Continuum Analytics, the premier provider of Python-based data analytics solutions and services, today announced the release of Wakari version 1.0, an easy-to-use, in-browser Python environment for analyzing, exploring and visualizing large data sets.
Hosted on Amazon's Elastic Compute Cloud (EC2), Wakari gives users the ability to share analyses and results via IPython notebook, visualize with Matplotlib, easily switch between multiple versions of Python and its scientific libraries, and quickly collaborate on analyses without having to download data locally to their laptops or workstations. Users can share code and results as simple web URLs, from which other users can easily create their own copies to modify and explore.
Previously in beta, the version 1.0 release of Wakari boasts a number of new features, including:

Premium access to SSH, ipcluster configuration, and the full range of Amazon compute nodes and clusters via a drop-down menu
Enhanced IPython notebook support, most notably an IPython notebook gallery and an improved UI for sharing
Bundles for simplified sharing of files, folders, and Python library dependencies
Expanded Wakari documentation
Numerous enhancements to the user interface
"We've heard from analysts across industries and researchers throughout academia that the ability to easily manage, analyze, and collaborate on large datasets has been a major barrier to getting work done," says Peter Wang, President of Continuum Analytics. "Wakari's in-browser environment makes sharing and collaboration exceptionally easy, and helps alleviate that pain for individuals, researchers, and companies alike."
Wakari builds on Continuum's Python distribution, Anaconda, which includes over 80 Python libraries and provides the ability to create customized Python environments. By exposing an intuitive web interface on top of this powerful distribution, Wakari dramatically simplifies both teaching and learning Python. Additionally, advanced tools are also included for users with large-scale problems. Enterprise-ready data processing and analytics libraries, like IOPro and MKL Optimizations, are immediately accessible through any Wakari account.
More details and plan information can be found on http://www.wakari.io. The free plan includes 10 GB of storage, as well as a number of sample data sets. Premium plans are available in three tiers and offer features such as increased RAM and disk space, SSH access, long-running jobs, the ability to add nodes/clusters, and access to high-memory compute nodes. For private installations of the entire Wakari system onto internal hardware or private clouds, contact sales(at)continuum(dot)io.
About Continuum Analytics
Continuum's Python-based data analytics products and consulting services empower organizations to analyze, manage and visualize big data – turning massive datasets into actionable insights and business value. Built on proven, open-source offerings and easily integrated within existing IT environments, Continuum's tools allow organizations to make critical business decisions based on their data quickly, easily, inexpensively and with flexibility. Without having to worry about how to access their data, organizations can free up resources to solve actual domain and business problems. To learn more about Continuum's services, training and product offerings, visit http://www.continuum.io.