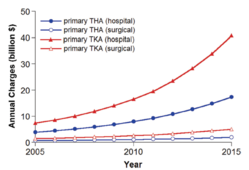 We believe that our new offering for hip and knee procedure patients will help them recover better and help us remain a leader in caring for patients from hospital to home.
New York, NY (PRWEB) May 21, 2013
Following the success of its previous programs to reduce readmissions for a number of conditions, CipherHealth, LLC has created the first follow-up program focused on reducing hospital readmissions for hip and knee replacement patients. The program is based on best practices from recent scientific literature and feedback from clinical experts in the field.
Elective total hip and knee replacement procedures, also known as total hip and knee arthroplasty (THA/TKA) procedures, are very costly for both providers and Medicare. The aggregate costs for THA/TKA in the U.S. are projected to increase to $17.4 and $40.8 billion per year, respectively, by 2015 (1). Furthermore, THA and TKA combined account for the largest procedural cost in the Medicare budget (2).
In response to the increasing cost burden of hip and knee replacements on the Medicare budget, CMS recently announced its intention to penalize hospitals for high rates of readmission for elective hip and knee procedures, starting in October of 2014 (3). Under this new proposal, hospitals that fail to reduce readmissions for their THA/TKA patients will be financially penalized by CMS, up to a full 3% of total hospital Medicare reimbursements (4).
Using innovative patient follow-up technology, CipherHealth's THA/TKA program will help hospitals identify THA/TKA patients who are at high risk for readmission and intervene effectively to address readmission risk factors at their root. The program will also arm patients with the information they need to take full control of their health.
Leveraging evidence-based best practices from research groups like Boston University's Project Re-Engineered Discharge (RED) and the Society of Hospital Medicine's Project BOOST, CipherHealth has successfully developed a number of condition-specific follow-up programs for AMI, heart failure, and pneumonia that have achieved excellent results in client hospitals. For example, using its heart failure program, CipherHealth was able to reduce readmissions at a 500-bed facility from 24.4% to 14.9%, helping the hospital avoid over $300,000 in penalties (5). In another case study that is scheduled for presentation at the American Thoracic Society, CipherHealth was able to reduce a New York state hospital's readmission rates for asthma by 73%.
"The new emphasis on readmission rates for hip and knee procedures could have a major impact on the provider choices of surgical candidates," said CipherHealth co-founder Alex Hejnosz. "We believe that our new offering for hip and knee procedure patients will help them recover better and help us remain a leader in caring for patients from hospital to home."
About CipherHealth, LLC
Founded in New York in 2009, CipherHealth, LLC provides improved care coordination and patient engagement through post discharge follow-up programs helping healthcare organizations reduce 30-day readmissions and increase patient satisfaction. For more information about CipherHealth's TKA/TKA follow-up program, or to schedule a demo, please visit CipherHealth's website at http://www.cipherhealth.com.
Citations
(1) Kurtz SM, Ong KL, Schmier J, et al. Future clinical and economic impact of revision total hip and knee arthroplasty. J Bone Joint Surg Am. Oct. 2007;89 Suppl 3:144-151.
(2) Ong KL, Mowat FS, Chan N, Lau E, Halpern MT, Kurtz SM. Economic burden of revision hip and knee arthroplasty in Medicare enrollees. Clin Orthop Relat Res. May 2006;446:22-28.
(3) CMS. Fiscal Year 2014 IPPS Proposed Rule. pgs. 479-491. Apr. 26, 2013.
(4) Patient Protection and Affordable Care Act. Section 3025 (a)(3)(c)(iii). Mar. 23, 2010.
(5) CipherHealth, LLC. CHF Readmissions - Predicting and Reducing CHF Readmissions with Targeted Patient Follow Up. Jul. 2012.