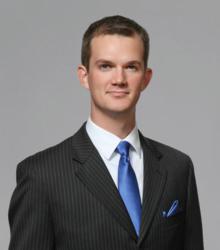 Above all else, I am blessed with an opportunity to carry forward my grandfather's legacy.
Atlanta, GA (PRWEB) May 22, 2013
The Ray C. Anderson Foundation announces the appointment of John A. Lanier as Foundation Director; responsible for operations, outreach and Foundation relations. Lanier is the son of Foundation Trustee, Mary Anne Lanier, and the grandson of the late Ray C. Anderson.
"Above all else, I am blessed with an opportunity to carry forward my grandfather's legacy," said Lanier. "I cannot help but be passionate about the work I will be doing for the Foundation, and I share with it a commitment to the cause of sustainability. Working alongside my family, I am confident in the positive change we can bring."
"John brings a fresh new perspective from the next generation that enables us to keep a keen eye on long range opportunities," said Harriet Langford, Foundation Trustee. "His passion, energy and strong leadership skills are just what we need to carry the Foundation to the next level, and by managing the Foundation's operations, he will allow the trustees to become further engaged with our stakeholders."
John Lanier comes to the Foundation from the Atlanta office of Sutherland, Asbill and Brennan, LLP, where he worked as an Associate Attorney in Sutherland's Tax Practice Group, specializing in U.S. Federal taxation. During his time with Sutherland, Lanier represented the interests of various Atlanta-based nonprofits, including the Ray C. Anderson Foundation. He has experience with nonprofit formations, compliance and applications for recognition of tax-exempt status.
Lanier earned his Juris Doctor (J.D.) Degree from the University of Virginia School of Law, and he holds Bachelor of Arts Degrees in History and Economics from the University of Virginia. Here in Atlanta, Lanier is an active member in the Marist School Alumni Association, serving as Vice President for Service and Spirituality. He is also a volunteer chaplain for the Fulton County Jail through prison ministry at Sacred Heart Basilica.
About The Ray C. Anderson Foundation
The Ray C. Anderson Foundation is a 501(c)3 not-for-profit organization that seeks to promote a sustainable society by supporting and funding educational and project-based initiatives that advance knowledge and innovation in sustainable production and consumption. http://www.raycandersonfoundation.org